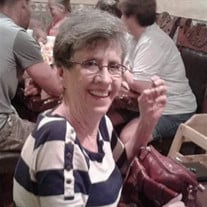 Teresa Darnell Proctor Summers, 73, of Stony Point, N.C., passed away September 24, 2021, at Autumn Care of Statesville, N.C., after an extended Illness. She was born January 22,1949 in Rock Hill, S.C., to the late Clyde Pinkney Proctor and Carrie O'Dale Proctor.
Teresa was a textile worker and of the Baptist faith.
In addition to her parents, she was preceded in death by three brothers, Joe Mathews, Sammy Proctor, and Danny Proctor; and her children's father, Craig Summers.
Teresa is survived by one son, Gerald Shane Summers of Stony Point; one daughter Nikki Summers of Statesville; one sister, Glenda Mathews of Hendersonville; three grandchildren, Katelyn, Timothy, and Phoebe; three great grandchildren, Jackson, Amara, and Axel; and several nieces and nephews.
A Memorial Service will be announced at a later date.
Chapman Funeral Home is honored to be serving the family of Teresa Darnell Proctor Summers.