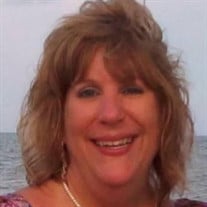 Teri Lyn Kanous Rufty, 55, of Stony Point, N.C., died unexpectedly on Friday, August 27, 2021, at her home.
She was born In Berrien County, Mich., on July 2, 1966, to Pat Hemphill Kanous and the late Robert Ray Kanous. She was also preceded in death by her husband, Kevin Wayne Rufty.
Teri enjoyed spending time with her friends, shopping, and going to the beach. More than anything else, she loved hanging out with her girls.
Along with her mother, Pat, those left to cherish her memory are her two daughters, Mandi Rufty and her husband Chris Huffman, Amber Moretz and her husband Daniel, brother, Chris Kanous and wife Tracie and their children, Makayla and Landon; brother, Curt Wolfenberger and wife Jo Anna and their children, Curtis Jr. (Melissa), Devin (Pearl), Madison (Michael), Claire, Sarah, Anneliese, and Sophia; father-in-law, Donald Eckard; sister-in-law, Teresa Rufty, niece, Kristen Roberts (Jamey); nephew, Justin Zara (Sam); and special friends, Roxann Urch, Janet Smith, and Donna Williams.
The family will visit with friends on Friday evening, September 3, 2021, from 6 to 8 pm at the Rufty's residence. A private Celebration of Life will be held later.
The family requests that memorials be given to the Stony Point Volunteer Fire Department, P.O. Box 146, Stony Point, NC, 28678. Fond memories and condolences may be left at www.nicholsonfunerals.com.
Nicholson Funeral Home is serving the Rufty family.