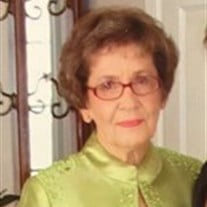 Theo Rita Braxton Pickard, 93, of Mooresville, N.C., passed away peacefully in her home, surrounded by her family, on October 15, 2021. She was born on February 23, 1928, in Graham, N.C., to the late Everette Ashburn and Nonie Lewis Braxton.
She moved to Charlotte with her husband Clarence in 1957. They raised their three children there until 1975, when they moved to their home on Lake Norman. Theo had a passion for music and after attending Westminster Conservatory of Music in Princeton, N.J., she went on to be a beloved choir director and soloist. In her later years, she helped start the Senior Adult Choir at First Baptist Church, Mooresville, which she directed for 25 years. She loved First Baptist Church and was proud that all her children came back to raise their families there. She was a tremendous woman of faith and was happiest when she was with her family. Most Sundays after church, she could be found cooking with love for her family.
She was preceded in death by her beloved husband, Clarence Earl Pickard Sr.
Theo is survived by her three children, Rita Snider, Clair Jo Brannon (Gene), and Rock Pickard (Kathi); and nine grandchildren and 18 great-grandchildren.
Visitation for family and friends will be held on Friday, October 22, 2021, from 1 to 2:30 p.m. in the fellowship hall of First Baptist Church. Services will follow at 3 p.m. with Rev. Dr. Jerry Cloninger Jr., Rev. Eddie Hicks, and Chaplain Stephen Vance officiating.
Memorials can be made to Hospice and Palliative Care of Iredell County, 2347 Simonton Road, Statesville, NC 28625 and/or the music ministry at First Baptist Church Mooresville, 150 South Church Street, Mooresville, NC 28115.
Cavin-Cook Funeral Home and Crematory, Mooresville, is serving the Pickard family. Condolences may be sent to the family at www.cavin-cook.com.