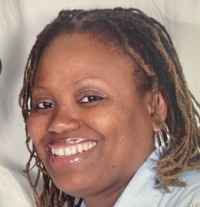 Ms. Theresa Annette Krider, affectionately called "Sweethang," was born in Atlantic City, N.J. on March 26, 1968, and was the daughter of Lillie Louise Krider and the late John Harold Taylor. She departed this life on February 23, 2021, at Davis Regional Medical Center in Statesville, N.C., following an extended illness.
She was a 1986 graduate of North Iredell High School and was employed as a Certified Nurse's Assistant. She was a former member of Knox Grove Baptist Church and later joined New Creation Baptist Church, where she sang on the choir until her health failed. She was a member of the Order of the Eastern Star.
In addition to her father, she was preceded in death by her grandparents, Ella Louise Krider, Nathaniel Krider, Nelly Taylor and Luther Taylor Sr.; brothers, Carlos Taylor and Michael Taylor; and her aunts, Margaret Chambers and Carary Taylor Barnes.
She leaves to cherish the memory of her life, in addition to her mother, Lillie Louise Krider of the home, one son, Jermel Krider of Statesville; two grandchildren, Jkeilyn "Jay" Krider and Elijah Krider, both of Statesville; one brother, David Krider of Minnesota; sisters, Tonia (Scott) Crawford of Statesville, Wanda Taylor of Atlantic City, N.J., Cherly Brock of Mayslanding, N.J., and Tracy Harley of Atlantic City, N.J., Frances (Mike) Anthony of Hickory, Margie Krider of Newton, Bernice Crosby of Claremont, and Vance (Faye) McGee of Eden, N.C.; a host of nieces and nephews, David (treekia) Krider Jr. of Salisbury, Keenan Krider, Kashonna Krider, Jasmine Leach and J'Tia Leach; and a host of other relatives and friends.
Celebration of Life Services will be conducted Sunday, February 28, 2021, at 1 p.m. at Rutledge and Bigham Funeral Home. Burial will follow in the Belmont Cemetery.
There will be no public visitayion due to the COVID-19 pandemic. Rutledge and Bigham Funeral Home, along with other funeral homes across the country, has been issued a mandate to limit the number of family and/or friends at funeral services.
You can also view Ms. Krider's remains virtually online at www.youtube.com. Search Theresa Krider's Viewing.
Visit the Book of Memories for Ms. Krider at www.rutledgeandbigham.com.
Rutledge and Bigham Funeral Home is serving the Krider Family.