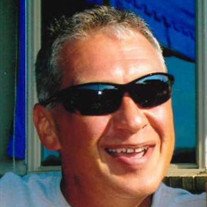 Todd Allen Biggs, 60, of Mooresville, N.C., passed away on Monday, February 22, 2021. The loving son of Pauline Biggs, Todd graduated from Margaretta High School and worked in Biggs Construction for several years before moving to Salvania, Ohio, where he established his own restaurant and corporate catering business for the next 17 years.
He moved to Mooresville in 2009 and became Director of Food Services for the Mooresville Soup Kitchen (now Feed NC) for eight years, where the clients and volunteers alike depended on him. Todd then became Director at Special Treasures (CHIC), where his love of underprivileged children flourished. At the time of his passing, Todd had just established the "Sandwich Express," which grew quite a following in the past 12 months. The "Sandwich Express" also helped Todd to continue his service to the underprivileged as he donated meals to a number of non-profit food pantries.
He was preceded in death by his father, Robert Biggs; his sister Melanie; his grandparents; and numerous aunts and uncles.
He is survived by his mother, Pauline Biggs; his life partner, Dock Brown; his sister, Teresa Biggs Hoelzer; and niece, Sydnie Dudek.
Upon meeting him, Todd would draw you in to his life, and tell you how to help make someone else's life somehow more noble. He spent a good portion of his short life helping others to better themselves and giving those less fortunate a way to make their life more fortunate. He was a true humanitarian.
In lieu of flowers (which we all know he loved so very much), the family would prefer a memorial donation as a celebration of his life to Special Treasures, 214 N. Center Street, Statesville, NC 28677.
Cavin-Cook Funeral Home & Crematory, Mooresville, is serving Todd's family. Condolences may be made to the family at www.cavin-cook.com.