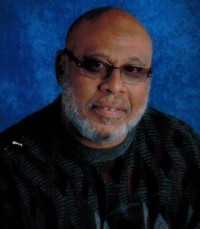 Mr. Tony Deion Cauthen Sr., 65, of 5228 Hickory Lane, Charlotte, NC 28216, passed away unexpectedly on April 26, 2021, at Presbyterian Hospital in Huntersville, N.C. He was born in Iredell County on June 21, 1955, and was the son of the late Graham and Margaret Feimster Cauthen. He was married to Christine Pugh Cauthen, who survives.
He leaves to cherish the memory of his life, in addition to his wife, Christine of the home, three sons, Brandon Cauthen, Tony Cauthen Jr. and Jerome Cauthen, all of Statesville; one daughter, Angela (Anton) Bland of Troutman; a step-daughter, Lenore (Broderick) Sings of Charlotte; brothers, Raymond Marshall, Anthony Marshall, and Ricky Mayes, all of Statesville, and Mike (Deborah) Turner, of Fayetteville, N.C.; sisters, Beverly Ann Culler of Troutman, Faye Marshall, Mabel (Dwight) Houston of Charlotte, Sheila Marshall, and Sylvia Marshall, all of Huntersville, LaFreda Bennett, Lillie (Nathan) Murdock, and Josephine (Joe) Lowe, all of Statesville; two sisters-in-law, Louise (Perry) Johnson and Ernestine (Alton) Owens, both of Charlotte; grandchildren, Amari Wilkins, Tionna Cauthen, Tony Cauthen III, Tavyon Cauthen, Clarissa Cauthen, Jadien Gilbert, Kennedi Sings, Solomon Sings and Ciera Mungo; a great grandson, Bryson Mungo; special aunts, Virginia "Pumpkin" Harris of Charlotte and Mildred Allison of Statesville; special cousins, Frank Cauthen, Melissa Cauthen and Overseer Georgia A. Daniels; special friends, Jack Bailey, H. I. Mateen, James "Teddy" (Tonda) Millsaps, Bernard Robertson, Ron Thomas, Anthony Cowan, Terry "Teddy Bear" Carson, Steve Clark, Jerome "Buster" Carson, Allen Ramseur, Scooby and Lisa Myers, and Beverly Jean Ramseur; and a host of nieces, nephews, cousins, other relatives and friends.
Celebration of Life Services will be conducted on Saturday, May 1, 2021, at 11 a.m. at New Covenant Bibleway Church, 1313 Capps Hill Mine Road, Charlotte, NC 28216.
Mr. Cauthen will remain at Rutledge and Bigham Funeral Home, 603 South Center Street, Statesville, NC 28677, until taken to the church to lie in state at 10:00 a.m. Burial will follow the service at Iredell Memorial Park, 2304 Shelton Avenue, Statesville, NC 28677.
Visit the Book of Memories for Mr. Cauthen at www.rutledgeandbigham.com.
Rutledge and Bigham Funeral Home is serving the Cauthen Family.