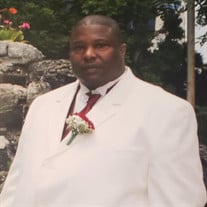 Tyrone Winfield, 53, of Mooresville, N.C., passed away on Monday, November 8, 2021, at the S. Mitchell Mack Hospice House in Mooresville. He was born on March 7, 1968, in Far Rockaway, N.Y., to the late Delores Lawson and James Winfield.
In addition to his parents, Tyrone was preceded in death by sister, Cheryl Winfield.
He attended PS/MS 42Q, School, graduated from 198 B.M. Cardozo Junior High School and attended Beach Channel High School. Tyrone did odd jobs such as messenger, dishwasher, cooking and preparing foods in hotels. He enjoyed basketball, football, playing spades, monopoly and listening to music.
Tyrone met Darlene on December 11, 1978. They were engaged in 2002, married on December 13, 2004, in a small ceremony and then a large wedding ceremony in July 2006 in Hempstead, N.Y.
Tyrone is survived by his loving wife, Darlene; children, Tanisha Peterson, Ciara Frazier, Semaya Frazier, Shaquana Frazier, Salana Frazier, Tyrone Johnson, Michael Bradshaw, Kahbaar Frazier, Michael Frazier, and Malykhi Frazier; grandchildren, Lillian Darlene Frazier, McKenya Frazier, Majaiah Frazier, Naveah Young, and Tyrone Johnson Jr.; brother, Andre Winfield; special friends, Spanky, Kevin, Otis, Gip, Antoniette and Terry; aunts, Janet, Betty, Lillian, and Shirley; and a host of nieces, cousins and in-laws.
Visitation for family and friends will be held on Saturday, November 13, from 9 to 10:30 a.m. at the funeral home. Funeral services will be at 10:30 a.m. in the Chapel of Cavin-Cook Funeral Home. Burial will follow in Glenwood Memorial Park.
For those who are unable to attend the service, you may go to the following link for the live stream: https://www.youtube.com/channel/UC864hAs96dTRLVVL1la0Qlw/videos?view=2&flow=list
Cavin-Cook Funeral Home and Crematory is serving the Winfield family. Condolences may be made to the family at www.cavin-cook.com.