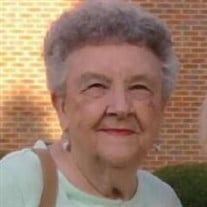 Vera Brown Jarvis, 90, of Statesville, N.C., went to be with the Lord on October 25, 2021, at MapleLeaf Healthcare, for whom her family would like to express our thanks to the doctors and staff for their friendship and care given to our Mom over the last six years.
She was born December 10, 1930, in Troutman, N.C., the daughter of the late Clint and Eula Waugh. She was raised and later lovingly adopted by Gaston and Blanche Brown.
She was preceded in death by her husbands, Isaac Henry Whiting and Lester Irley Jarvis; brothers, Robert "Buck" Waugh, Jack Waugh, and James (Jimmy) Waugh; sisters, Betty Jean Hester, Peggy West, Evelyn Caldwell, and Helen Meadows.
Vera was a compassionate, outgoing, and enjoyed giving back. She was known for volunteering at Davis Hospital, helping others or delivering her famous pound cake. She never met a stranger, had a warm sense of humor, and enjoyed spending time with her family.
Left to cherish her memory are her sons, Rick Whiting and wife Laura, Chris Whiting and wife Teresa, and Stacey Jarvis and wife Krista; grandchildren, Ryan Whiting Smith and husband Joshua Smith, Jonathan Whiting, Bennett Whiting, Robert Whiting, Collin Whiting, Mallory Jarvis (Bradley Ayers), and Megan Jarvis; one great grandchild, Oliver Ayers, brothers, John Waugh, Jerry Waugh, and Larry Waugh; along with numerous loving friends and family.
The family will receive friends from 1 to 2 p.m. on Thursday, November 4, at Nicholson Funeral Home. Funeral Services will be held at 2 p.m. at Nicholson Funeral Home Chapel with Rev. Paul Hill officiating.
Nicholson Funeral Home is assisting the family.