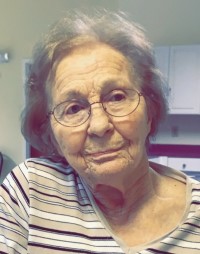 Vera O'Neill Troutman Beaver, 93, passed away on July 20, 2021, at Jurney's Assisted Living after a more than 10-year battle with Alzheimer's disease.
​She was born during a snowstorm on February 18, 1928, to Thomas Jefferson Troutman and Annie Rose Pratt Troutman. She was the middle child of eleven siblings, all of whom preceded her in death. Vera proudly graduated from Troutman High School in 1947 and worked at JC Penney Company as a bookkeeper before marrying Glenn Beaver, the Key Man, in September of 1948. They were married for 63 years until he passed away in 2011.
​She had six loving children, Diana Beaver Dagenhart, Karen Beaver Donaldson and her husband Robert (who now runs the Key Shop), David Beaver and his wife Ann, Anna Beaver Ross, and Debi Troutman Hager and her husband Mike. Her eldest son, Ernest Glenn Beaver, Jr. was tragically killed at age seven in a car accident in 1968. Her dear son-in-law, Tony Dagenhart, also preceded her in death from cancer in 2015.
​Vera was a member of Beulah Baptist Church her entire married life. She taught Sunday School and Vacation Bible School. She was a Girl Scout leader, a master gardener, and a member of the National Rose Growers Association. She worked from home, helping run Beaver's Key Shop, cooking, canning, sewing, cleaning, and tending stunning gardens filled with vegetables, fruit trees, and flowers. She loved to sing and sang a perfectly articulated alto long after dementia robbed her of good speech.
​She adored her nine grandchildren, Alana, Josh, Sarah, Gabe, Jack, Ben, Jacob, Abbi, and Madi. She was blessed with ten great grandchildren, Sidney, Gretchen, Davis, Georgia, Sam, Sydney, Isaac, Glenn, Mae, and Oliver. She is also survived by de facto "daughter" Linda Privette and devoted caregivers, Willa Dean Morrow, Carolyn Gantt, Joyce Walker, and Savannah Walker.
​Her greatest joy came in planning celebrations for her beloved family. She bought the best gifts, perfectly chosen for each person. She decorated her house for every season and threw huge holiday and birthday parties. Her strawberry cobbler was legendary.
​This strong matriarch was always there, food in hand, to help with painting, yard work, moving, childcare, cleaning, sewing wedding gowns, traffic tickets, broken bones, illnesses, pregnancies, and the myriad of problems that each individual might be facing. She loved to play cards and board games, play ball in the yard, sled, and tell stories late into the night. She loved music and had speakers that would rattle the windows with the 1812 Overture on the Fourth of July, or Handel's Messiah at Christmas. This powerful force of nature was truly one of a kind.
​The family humbly and gratefully thank the staff of Jurney's Assisted Living and Hospice of Iredell County for the loving and attentive care she received during the last years of life. These selfless people laughed with her, attended to her every need, and genuinely loved "Ms. Vera." She was content and thrilled to be the center of attention in her sunny room at Jurney's. We cannot imagine a more professional, patient-focused, and compassionate group of individuals.
​Vera O'Neill Troutman Beaver will lie in state at Troutman Funeral Home on Saturday, July 24, from 10 a.m. to 4 p.m. On Sunday, July 25, the family will receive friends from 1 to 2 p.m. followed by a Memorial Service at 2 p.m. at Troutman Funeral Home. A private burial will be at Iredell Memorial Gardens. At other times, the family will assemble at the home of Karen and Robert Donaldson.
​In lieu of flowers, the family asks that donations be made in her name to Hospice and Palliative Care of Iredell County, 2347 Simonton Road, Statesville, NC 28625, or to the Youth Department, Beulah Kids, of Beulah Baptist Church, 1851 Old Mountain Road, Statesville, NC 28677.
Troutman Funeral Home is serving the family.