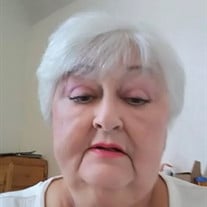 Vickie Diane Bumgarner Baxter, 70, of Mooresville, N.C., passed away on Tuesday, September 21, 2021. She was born on June 7, 1951, in Mooresville to the late Roby and Bessie Sipes Bumgarner.
She enjoyed sewing, gardening, flowers, baking, canning, and cooking. She loved her family, especially her grandchildren. She was loved by all who knew her and will be greatly missed.
In addition to her parents, she was preceded in death by her husband, Billy Junior Baxter Sr.; sister, Nancy Teague; and brothers, Homer Bumgarner and John Bumgarner.
She is survived by her children, Teddy Dwayne Baxter (Amanda) of Maiden, N.C., Billy Junior Baxter II (Rhonda) of Mooresville, and Scotty Lane Baxter of Mooresville; sister, Gail Bumgarner; brother, Russell Bumgarner (Lynn); six grandchildren; five great grandchildren; and several nieces and nephews.
The family will receive friends on Monday, September 27, from 6 to 8 p.m. at Cavin-Cook Funeral Home.
Cavin-Cook Funeral Home, Mooresville, is serving the Baxter family. Condolences may be made to the family at www.cavin-cook.com.