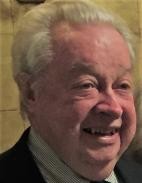 William Daniel "Dan" Poole, 88, of Statesville, N.C., passed away on August 3, 2021, at Wake Forest Baptist Medical Center in Winston-Salem.
Born in Statesville on November 3, 1932, Dan was the son of the late William Oscar Poole and Edna Brewer Poole.
Dan graduated from Statesville High School, Class of 1951, and received a Bachelor of Arts Degree in journalism from Wake Forest University in 1955. At Wake Forest, he was the editor of the weekly newspaper, The Old Gold and Black, and a member of Omicron Delta Kappa honorary leadership fraternity and Sigma Phi Epsilon social fraternity.
He was a reporter at the Norfolk, Va., Virginian-Pilot from 1955 to 1957. In 1957 he moved to Washington, D.C., and worked at the Washington Star newspaper, serving as real estate editor, features editor, travel editor, and assistant managing editor. He was a member of the White House Correspondents Association, National Association of Real Estate Editors, serving as president from 1970-71. Dan was a member of the Newspaper Comics Council and chairman in 1975-77. He also was a member of the Society of American Travel Writers, Mystery Writers of America, and American Association of Sunday and Feature Editors. He was a Silver Owl (50 years) member of the National Press Club. In 1981, Dan and his wife moved to New York City, where he served as vice president for Publishing for the Insurance Information Institute, an insurance trade association. He was publisher of its monthly trade magazine, Insurance Review.
While living in New York City, Dan was a member of the Insurance Marketing Communications Association. He was a member of the Players Club and held various positions at the Amateur Comedy Club, performing in the Sound of Music.
In retirement in Statesville, Dan was an active member of the Statesville High School Class of 1951, attending monthly lunches with his classmates and hosting annual high school reunions at his home. He also enjoyed weekly "Confusion Club" luncheons with friends. Dan was a past member of the Performing Arts Live Statesville and a member of the Statesville Country Club.
In addition to his parents, he was preceded in death by his sister, Frances Daniels, and brother-in-law Richard Daniels.
He is survived by his wife of 41 years, Sandra Poole; one sister, Carolyn McLelland (Jerry); three nieces, Terri Gibson (Garry), Vicki Daniels, and Amy Hrabar (Phil); one nephew, Rob Lyerly (Penny); one great niece, Amelia Gibson (Matt Carter); two great nephews, Jay Gibson and Daniel Daniels (Amanda), and their children and grandchildren. Also surviving are cousins, Bob Poole, Bill Poole (Sarah), and Bill Brewer (Sandy) and his wife's sister, Harriet Gingrich (Raymond).
Dan traveled widely, from the top of the world in Nepal to the end of the world at the Strait of Magellan in Chile. He lived life to the fullest in each city where he resided. In later life, he enjoyed sitting on his rocking chair porch with his wife and their two Yorkies, Lexie and Maddie. Dan Poole bloomed wherever he was planted and often said he had had a magical life.
Funeral services will the held at Western Avenue Baptist Church on Sunday, August 8, at 3 p.m. officiated by Dr. Jeff Spry with Rector Brad Mullis, of Trinity Episcopal Church, Statesville. It would be appreciated if masks were worn. Internment immediately following at Oakwood Cemetery, Statesville.
In lieu of flowers, donations may be made to Western Avenue Baptist Church, 1206 Museum Road, Statesville, NC 28625 or to your local animal rescue organization.
Troutman Funeral Home is serving the family.