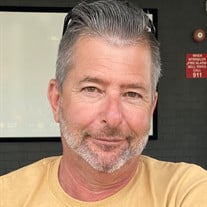 Michael "Mike" Patrick Biglin, 55, of Mooresville, N.C., formerly of Lilly, Pa., passed away suddenly on Saturday, July 31, 2021.
He was born on March 8, 1966 in Altoona, Pa., to the late Michael J. Biglin and Carolyn "Babe" Biglin.
In addition to his parents, he was preceded in death by his grandparents, Joseph and Carmella Eny Albarano and Herbert and Edna Beck Biglin.
He is survived by his son, Michael Biglin (Ashlee); his sisters Michele Pascoe and Teresa Davila; and his significant other, Janeen LeComte; and he will be lovingly remembered by many family members and friends.
A Funeral Mass will be held at 1 p.m. on Saturday, August 14, 2021 at Our Lady of the Alleghenies Catholic Church in Lilly, Pa.
Memorial donations in Michael's name may be made to the NC Patriot Guard Riders, PO Box 36202, Fayetteville, NC 28303.
Cavin-Cook Funeral Home & Crematory, Mooresville, is serving the Biglin family. Condolences may be made to the family at www.cavin-cook.com.