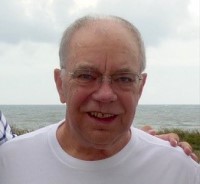 William Edwin "Ed" Corbean, 75, of Statesville, N.C., passed away Sunday, January 10, 2021, at Iredell Memorial Hospital. Ed was born March 17, 1945, in Dayton, Ohio, and was the son of the late C.C. Corbean and Elenora Corbean.
Ed graduated from Cedarville High School, served in the Army National Guard and volunteered for many years as a local police reserve officer in Colorado. He retired from IBM and Denver International Airport. Ed was kindhearted and loved his family dearly. He had a way of making those around him smile with his kindness and quick wit.
He is survived by his wife of 30 years, Melissa Price Corbean of Statesville; three children, Mitzi Gooden (Kevin), Janelle and husband, John, and Jennifer and husband, Daniel; grandchildren, Katelyn and Josh Boyer, Kaleb and Lauren Gooden, Kane Gooden and Julia Badalov, Andre; great grandchildren, Kinsley Boyer and Theo Gooden; and his brothers and sisters, Wayne Corbean (Connie), Marlin Corbean (Claudia), Corajane Goodell, Ginny Ann Hawk (Warren) and Marlene Wood. He was preceded in death by one son, Jeff Johnson, and two brothers-in-law.
To keep everyone safe and healthy, there will not be a formal service. The family requests that over the next few days, weeks and months that friends and family share support by having a short visit with Melissa to encourage her. To keep social distancing a priority, we ask that you contact Mitzi to find a time for your visit.
Memorials may be made to Front Street Baptist Church and Gideon's International. Online condolences may be made to the family at www.troutmanfuneralhome.com.
Troutman Funeral Home is serving the family.