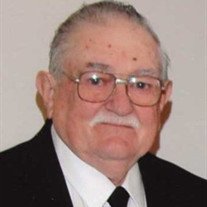 William "Bill" J. Oates, 92, of Mooresville, N.C., passed away peacefully on Wednesday, May 5, 2021 at Gordon Hospice House in Statesville, N.C.
Bill was a retired weaver of 53 years at Burlington Mills. Retirement didn't suit Bill so he worked 20-plus years at Port City Carwash. Brother Bill loved the Lord. He was an avid hunter on his family farm, formerly Oates Road now Mackwood Road. He loved horses and hunting dogs, and he raised quite a few.
He was born on May 17, 1928, to the late John Franklin Oates and Mary Emma Abernathy Oates. In addition to his parents, he was preceded in death by wife of 47 years, Mary "Lorene" Sipes; brothers, Ray, Robert, John, Ben, Grady, and Fred; and sisters, Eva Johnson, Lois Honeycutt, Rachel Staley, and Sarah Miller.
He is survived by his daughters, Teresa O. Passmore and husband Jose Perez Estrada, April O. Cline and Liam Mathes; and numerous nieces and nephews.
Funeral services will be held at 4 p.m. on Saturday, May 8, 2021, at Cavin-Cook Funeral Home Chapel with Rev. William Lawrence Ownbey officiating. Burial will follow the service at Glenwood Memorial Park.
The family will receive friends on Friday, May 7, 2021, from 7 to 8:30 p.m. at the funeral home. In lieu of flowers, memorials may be made to Gordon Hospice House, 2341 Simonton Road, Statesville, NC 28625.
Cavin-Cook Funeral Home, Mooresville, is serving the Oates family. Condolences may be made to the family at www.cavin-cook.com.