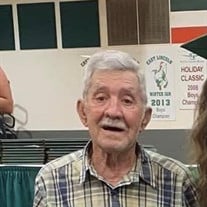 Wylie Ray "Bob" Cooke, 78, passed away at his home on October 15, 2021, with his loving wife by his side.
Wylie was born December 31, 1942, in Watauga County, N.Cl, to Clarence Cooke and Nina Mae Cooke. Wylie married Robin Cooke of Lincolnton, N.C., on September 24, 1995, in Tennessee.
Bob was a special and most giving man to his family and friends. He loved the outdoors and sports (football being his favorite), fixing anything and everything, and spending time with his family and friends.
Bob was preceded in death by Clarence Cooke (Father), Nina Mae Cooke (Mother), Tommy Cooke (Brother), Tiffany Cooke (Daughter), and Michelle (Daughter).
He is survived by his wife, Robin Cooke; children, Aaron Cooke (girlfriend, Mickie Sawtelle) of Concord, Michael Cooke of Winston-Salem, and Pamela Davis of Denver; grandchildren, Ashton, Madisen (fiancé, Corey Flack), Landon, Zoey, Cole, Hannah, and Parker; brother, Art Cooke (partner Elisa Pate); sisters, Carolyn Lloyd (husband Rick), and Joanne Ledbetter (husband Howard); and several nieces and nephews.
A visitation will be held Monday, October 18, 2021, from 10 to 11 a.m. at Cavin-Cook Funeral Home in Mooresville, N.C.
Graveside service and burial for Wylie "Bob" Cooke will be held on Monday, October 18, 2021, at 2 p.m. at the White Cemetery in Boone, N.C., with Pastor Lee Russell officiating.
In lieu of flowers, the family requests that donations be made in Bob's name to Hospice and Palliative Care of Iredell County, 2347 Simonton Road, Statesville, NC 28625.
Cavin-Cook Funeral Home, Mooresville, is serving the family of Mr. Cooke. Condolences may be made to the family at www.cavin-cook.com.