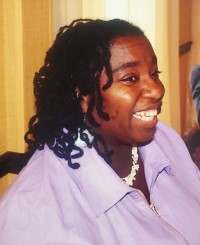 Mrs. Zeniah Rachelle Latoude, 48, passed on Monday January 4, 2021, at Moses Cone Hospital. During her time with us, she blessed us with her beautiful personality, undying devotion for family, fierce loyalty, and unbending personal courage. We maintain with joy and sorrow that Zeniah has been called home and is with the Lord.
Born in Statesville, N.C., on September 19, 1972, Mrs. Latoude was the daughter of Charles B. Stevens and Carolyn F. Stevens. She obtained her undergraduate degree from Elon University and was a member of Delta Sigma Theta Sorority, Inc.
For many years she worked for Guilford County School Systems as a teacher for special needs children. She was a multifaceted artist being gifted in pottery. Zeniah had an anointed voice and demonstrated her talents at church. Her passion for ministry touched the lives of many.
Zeniah was preceded in death by her husband, Lamidi Laouani Latoude. Surviving are her parents; daughter, Zoriah Latoude; and brothers, Chaske Stevens and Ian Stevens.
Memorial services will be held at Mount Calvary Apostolic Holiness Church, at 1 p.m. on Saturday, January 16, 2021. Burial will follow at Iredell Memorial Gardens.
The family would like to thank everyone for their well wishes and condolences.
Online condolences may be left at www.bunchjohnsonfuneralhome.com.
Bunch-Johnson Funeral Home is honored to be serving the Latoude family.