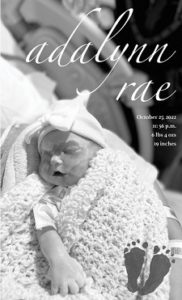 Adalynn Rae Sellers was born sleeping into the loving arms of her parents on Thursday, October 27, 2022, at 11:56 p.m. at the Lake Norman Regional Medical Center in Mooresville, N.C. She weighed 6 pounds, 4 ounces and was approximately 19 inches long.
She is survived by her mother and father, Kourtney and Shane Sellers of Mooresville; her brother, Colton James; grandparents, Mark and Cyndi Richards of Mooresville, and Chyrel and Richard Ferris of Troutman, N.C.; great-grandparents, Dorothy Richards of Phoenix, Ariz., and Judith and Keith Twedt of Nevada, Iowa; great-great grandparents, Harry and Trudy Goettsch of St. Louis, Mo.; and aunts and uncles, Kelsey and Jason Berry of Chicago, Ill., and Brandon Sellers and Nate Bolech of Altamonte Springs, Fla.
She was preceded in death by her grandfather, Stephen Sellers; great-grandparents, George Richards, Edmund and Janet Gose, JB and Betty Sellers, Byron Pope, Shirley Murdock, Tom and Carol Ferris; uncle, Philip Sellers; and great-uncle, Mike Pope.
A memorial service will be held for family and friends on Saturday, November 5, 2022, at 3 p.m. at Troutman Funeral Home with Georgianne Hartline presiding and Mark Witherspoon speaking.
Troutman Funeral Home is serving the family.