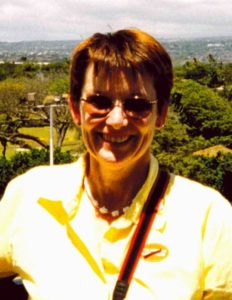 Amanda Bailey Wilson, 72, of Statesville, N.C., passed away Sunday, March 20, 2022, at her home.
She was born July 2, 1949, in New York, N.Y., and was the daughter of the late Frank L. Bailey and Martha Anne Boland Bailey. She was a graduate of Waterbury, Vt., High School in 1967 and earned her Art and History Degree at Johnson State College in 1971. She worked in Furniture and Textile Import/Export and Distribution for a number of years and on January 24, 1991, was married to Bruce Leon Wilson, who survives. She joined Iredell County in 2003 as a Safety Compliance Officer and Trainer and retired in 2012.
In addition to her parents, she was preceded in death by one brother, Harry L. Bailey.
Along with her husband, Amanda is survived by one son, Nathan Rogers (Jessie), a daughter, Mary Beth Gonzales (Freddy), a step-daughter, Angela W. Rodriguez (Ricky); a step-son, Bruce Wilson Jr. (Amanda); and grandchildren, Alexis Gonzales, Emiliann Rodriguez, Christopher Rodriguez, Michael Rodriguez, Elliot Rogers and Tristan Rogers. Also surviving are one brother, Jeffery F. Bailey; one sister, Judy Lafreniere (Dennis); best friends, Barbara and Jan; and many nieces and nephews.
Graveside services will be conducted at 11 a.m. on Tuesday, March 22, 2022, at St. James Episcopal Church Cemetery, Mooresville, N.C., on Weathers Creek Road.
Troutman Funeral Home will be handling the arrangements. Online condolences can be made to the family at www.troutmanfuneralhome.com.