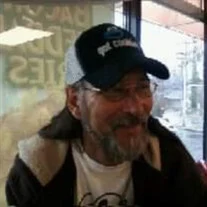 Arvel Dewayne "Po" Henderson, 64, passed away on November 3, 2022.
Mr. Henderson was born August 6, 1958, to Mr. John Henderson and Mrs. Frankie (Culpepper) Henderson. Dewayne did his level best to deplete the lakes and streams of their fish. He enjoyed spending time with his children and grandchildren. He drove trucks for most of his life until he retired due to health issues. He was very family oriented and felt that family comes first no matter what.
Dewayne was preceded in death by his parents; his brother Jackie; his sister Darlene, his brother Johnny; his sister Judy; his son John Edward and his wife Donna.
He is survived by his wife, Teresa Henderson of Statesville; his brother Keith Henderson of Arlington, Texas; his sister Tina Henderson Bryant and husband Glenn of Arlington, Texas; his brother Shannon Henderson and wife Kimberly of Kaufman, Texas; his son Curtis Henderson of Princeton, Texas; his daughter Jordan Henderson of Texas; his son Michael and wife Tiffany of Statesville, N.C.; his daughter Haven Conley and husband Roger of Statesville, N.C.; his daughter Kim Farmer and husband Chris of Stony Point, N.C.; his son David Sigmon and wife Megan of Statesville, N.C.; his daughter Heather Travis of Knoxville, Tenn.; his daughter Tiffany Deel of Statesville, N.C., and his 13 granddaughters, 15 grandsons, and two great grandchildren.
At this time there will be a memorial scheduled for family and friends in Texas during the spring. More details to come.
Nicholson Funeral Home is serving the family.