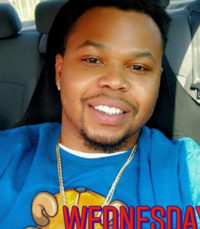 Mr. Auburn Odell Clement, 27, was born in Iredell County, N.C., on October 7, 1994, and was the son of Vernie Lee Clement Jr., and Karen Davidson Clement. He departed this life on Sunday, September 19, 2022, at Novant Health Regional Medical Center in Salisbury, N.C..
Auburn graduated from Statesville High School in 2012 and attended Bethel Outreach Church in Charlotte, N.C. He worked at Williams and Sonona Furniture Factory, as a Cut Out Designer. He enjoyed basketball and football, and his favorite teams were the Carolina Panthers and Florida State Seminoles.
Auburn was preceded in death by his two grandfathers, Vernie Lee Clement Sr. and James Davidson. Pearlie Davidson, his grandmother, also preceded him in death.
He leaves to cherish the memory of his life his parents, Vernie Lee Clement Jr. and Karen Davidson Clement; grandmother, Mary Jane Wallace of Salisbury; one son, Dominic Roberts of Wilkesboro; one daughter, Skylar Summers; three brothers, Vernie Lee Clement III (Latoya) of Statesville, Yahdan Wheeler, Tyrese Davidson of Statesville, and Immanuel Clement of Salisbury; two sisters, Gavriela Clement of Salisbury and Jacqueline (Chris) Davidson, and Marian Clement; one uncle, James William Davidson Jr.; three aunts, Teresa Davidson, Penny (John Wayne) Peck, and Marcella Y. Clement; and a host of other nephews, nieces, cousins, other relatives and friends.
A Celebration of Life will be held at The Living Church Ministries, Statesville, on Monday, September 26, 2022, at 1 p.m. Visitation will be held from 12 to 1 p.m.. Visit the book of memories for Auburn Odell Clement at www.rutledgeandbigham.com.
Rutledge and Bigham Funeral Home is serving the Clement family.