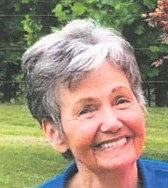 Beverly Cooke Haymaker, 78, of Stony Point, N.C., passed away on January 28, 2022, at the Gordon Hospice House in Statesville, N.C. She was born July 6, 1943, to the late Annie Mae Harrell Cooke and Todd O. Cooke.
Beverly grew up in Hampton, Va., and graduated from Hampton High School in 1961 as a member of the National Honor Society and then continued her education at Mount Union College in Alliance, Ohio, where she made the Dean's List and joined the Alpha Zi Delta sorority. With a historical family background, she researched her family origins and was involved with the Daughters of the American Revolution (Ketoctin Chapter-Virginia).
She married Earl Haymaker, an air traffic controller stationed at Langley Air Force Base, and began her working career at Headquarters, Tactical Air Command in the Judge Advocates Office as secretary/stenographer. After several years, she and her husband transferred to the Naval Weapons Station in Yorktown, Va., where she worked for the head of the Industrial Engineering Department. It was during the time of this preparation that she developed Multiple Sclerosis, was unable to work and had to retire. In her fight against this disease, she started an MS Support group and along with the National MS Society held many fund-raising events. After years of going in and out of exacerbations, she had to retire for good.
She and her husband moved to Arizona to be near her one and only son, Brian Haymaker, and his family (Stephanie his wife, and Briana his daughter). After three years in Arizona, it was decided the heat was too much for her and her son found a home in Stony Point that was near health facilities with many trees that she loved. Her health began to decline, and she had to have two heart stents put in her heart and was scheduled for kidney surgery when she developed double pneumonia. Doctors discovered she had Mesothelioma cancer, and she was given several months to live. Her son Brian and husband Earl remained by her bedside until she passed away peacefully at Gordon Hospice House.
She is survived by her husband, Earl Haymaker; son, Brian Haymaker; and brother, Kenneth Cooke.
A Funeral will be conducted on Monday, February 7, 2022, at 2 p.m. at Stony Point Baptist Church. Rick Norman will officiate. The family receives friends at Stony Point Baptist Church from 1:15 to 1:45 p.m. before the service, and burial will follow at Stony Point cemetery.
Chapman Funeral is serving the Family.