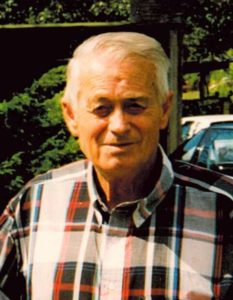 Billy Gene Hollar, 92, of Statesville, N.C., passed away on Saturday, April 9, 2022, at Gordon Hospice House. Bill was born on August 8, 1929, in Iredell County to the late Lanty B. Hollar and Ollie Jordan Hollar. He attended Barkers Grove Baptist Church and worked at Carolina Valve.
In addition to his parents, Bill was preceded in death by his wife, Myrtle Nicholson Hollar; two brothers, Willard and L.B. Hollar Jr.; and one sister, Connie Maye.
Bill is survived by his sons, Rick and Billy Hollar; grandchildren, David Hollar (Kelly), Natalie Hollar, Peter Hollar (Darla), Chris Hollar and Amy McCoy. Also surviving are twelve great grandchildren.
A visitation will be held Tuesday, April 12, from 2 to 3 p.m. at Barkers Grove Baptist Church. Service will follow the visitation at 3 p.m. with Rev. Keith Stanley and Rev. Joey Campbell officiating. Burial will follow in the church cemetery.
In lieu of flowers, memorials can be made to Gideons International at P.O. Box 97251 Washington, DC 20090-7251.
Troutman Funeral Home is serving the family.