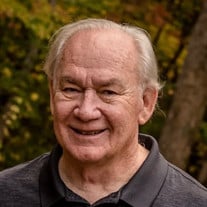 Bob Lee "Bobby" Marshall III of Mooresville, N.C., and formerly of Athens, Texas, celebrated his 69th birthday on December 27, 2021. He went to sleep at home that night and awoke in heaven on the morning of December 28 in the presence of his Savior.
Bobby, the oldest of Bob and Doris Marshall's three children, was born in 1952 in Austin, Texas, where he lived until his ninth grade year when his family moved to Dallas, Texas, where he would meet his one true love, Sherry Spain. He was an outstanding baseball player, until switching gears at age 19 when he began racing sprint cars.
Bobby and Sherry, along with his family, race team and a few good buddies, towed the Blue Max No. 19 sprint car across the United States to race at dirt tracks all over the country. In 1979, Bobby became one of the original drivers in the World of Outlaws. One of the highlights of his successful racing career was finishing second to good friend Steve Kinser in the 1980 Knoxville Nationals. In 1982, he continued his success by winning the Inaugural Race of States, representing his home state of Texas. A recent World of Outlaws social media post described him as "an original Outlaw, a genuine, kind-hearted man, and one of the best storytellers with a passion for preserving the history of our sport."
In 1986, Bobby retired from full-time sprint car racing to help grow the family RV business, Marshall's RV Center. Bobby, along with his dad, mom, brother, and sister-in-law, built a successful RV dealership that they owned for more than 20 years. He never lost his love for racing. In recent years, he developed an online following and became an "accidental" racing historian, known for his storytelling and for the massive collection of racing photos that he shared with "Real Open Wheel Racers," a group of online friends around the world.
Bobby had another reason for retiring from the intense travel of the full-time racing circuit. By then, Bobby and Sherry had a young daughter. Allison was Bobby's pride and joy from the day she arrived in 1980. Just the mention of her name would bring an ear-to-ear grin. He was incredibly proud of his only child and loved supporting her dreams. In 2015, Bobby, Sherry and Sherry's mom, Jay Campana, moved to North Carolina to be closer to Allison, Ryan and their kids. Bobby loved spending time with his family, especially his grandkids, Kendall and Colt. He could frequently be found at the baseball field cheering on Colt and his Copperheads teammates or at Millbridge Speedway watching Colt develop his love for racing like his Papa.
Through the decades, Bobby's love for the Lord Jesus Christ grew stronger and stronger. He lived out and shared his Faith every day. So many people will miss his daily Bible verse postings. He was the definition of a people person who interacted with every person he encountered. It didn't matter if they were a long-lost friend or a server at a restaurant, he treated every single person he encountered like they were his best friend. He was a shining example of what it means to be present. He will be greatly missed by all the people who were lucky enough to have him touch their lives.
His family was most important to him. He will forever be remembered as a loving and devoted husband, father, grandfather, brother, uncle, cousin, and friend. Bobby leaves a lasting legacy to be cherished by his survivors, his wife of 43 years, Sherry Marshall (although they dated for eight years, so Sherry considers them "married" for 51 years); mother-in-law, Jay Campana; daughter, Allison McKinney and husband Ryan of Mooresville, N.C.; grandchildren, Kendall and Colt McKinney; sister, Toni Hartwell of Conroe, Texas; niece, Hailey Piowaty, and nephew, Colin Hartwell; brother, Terry Marshall and wife Tammy of Lindale, Texas; niece, Taylor Marshall; aunt, Jane Marshall of Fredericksburg, Texas; cousin, Richard Marshall and wife Jennifer of Austin, Texas; cousin, Misty Criswell and husband Shane of Mason, Texas; and countless racing friends who've become family.
A Celebration of life service will be held by the family on Tuesday, January 4, at 2 p.m. at the Heritage House at Cavin-Cook Funeral Home in Mooresville, N.C. Visitation will be prior to the service from 1 to 2 p.m.
The family would like to extend their sincere appreciation to all his beloved racing family, friends, and fans for their unwavering compassionate support over the years. Your kindness will never be forgotten, and your numerous comments and messages will be cherished.
In lieu of flowers, Bobby's wife and daughter would like you to consider making a memorial donation to either Image Church in support of Bobby and Heather Conway's ministry (www.ImageChurchLive.ChurchCenter.com/giving) or to the Bobby Marshall/Motorsports Medical Registry Fund managed by Motor Racing Outreach. Please reference the fund when donating at www.go2mro.com/donate.
Cavin-Cook Funeral Home, Mooresville, is serving the family. Condolences may be made to the family at www.cavin-cook.com.