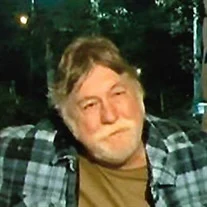 Bobby Dale White of Statesville, N.C., passed away peacefully in his sleep on Tuesday, March 8, 2022, following a lengthy illness.
Funeral Services will be held on Sunday, March 13, 2022, at 3:00 P.M. at Fern Hill Baptist Church, 872 Fern Hill Road, Mooresville, NC 28117. He will be laid to rest alongside his brother Bill in the Fern Hill Cemetery immediately following the funeral service.
The family will receive friends one hour prior to his service at Fern Hill Baptist Church.
Bob was born on December 29, 1951, to the late Lewis Andrew and Martha Anne White.
He is survived by daughters, Michelle (Joe) Bowen, Catherine (James) Powell, and Barbara (Darin) Curtis; eigh grandchildren; seven great grandchildren; sister Brenda (Steve) Wyatt; and several nieces and nephews.
Bob grew up on Shiloh Church Road, where many of his family members still reside. He was an avid fisherman and was truly the happiest when he had a fishing pole in hand and was surrounded by his "Buddies" (as he called all his friends and nephews). He is remembered by his family and friends as the "Class Clown," always silly and always making others laugh. If he met you, you would hear one or more of his jokes.
He wanted to thank all the Nurses and Staff that took such good care of him in his final months at Iredell Memorial Hospital and Hospice House of Statesville. He also wants you to know that he is shaking his fist at you for not letting him have a cigarette. Even in death he can still make us laugh.
Bob was preceded in death by his domestic partner of 30 years, Lynn Cranston; sisters Ruth (Jerome) Jolly, Betty (Lonnie) Lambert, and Diane (Richard) Parker; brother Bill (May) White; long-time close friend, Denise Woods; and seven nieces and nephews.
Memorial Contributions may be made to Gordon Hospice House of Statesville, N.C., at https://apps.hoic.org/donate-now.
Nicholson Funeral Home is serving the family.