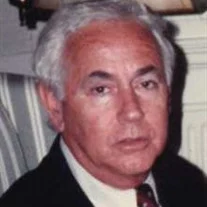 Bobby Pressley Brawley was born on September 30, 1929, to Robert Lawson and Nannie Dee Smith Brawley in their home in Shepherds, N.C. He passed to his eternal home on July 15, 2022, in Salisbury, N.C., after a brief stay at the NC Veterans Home.
He graduated from Mooresville Senior High School in 1947 and then attended North Carolina State University in Raleigh for two years. He then graduated from Mitchell Community College. On July 1, 1950, he married Betty Brown Mayfield from Troutman, N.C. They settled in Mooresville, N.C., and had two children, Jane Nanette Brawley and Robert Pressley Brawley. He was preceded in death by his parents, sister Peggy Brawley Bristol, and son Robert Pressley Brawley.
He is survived his wife Betty, daughter Jane Brawley Jordan, sister Sylvia Brawley Rogers, and seven grandchildren, Robert Blaine Brawley (Angie), Jason Pressley Brawley (Jennifer) Haley Brawley Hanson, (Stephen) and Blake Brawley Huggins (Richard), Howard "Scott" Jordan, James Edward Jordan, and Kevin Andrew Jordan (Morgan) and seven great grandchildren, Kalel Stephenson, Caleb Brawley, Morgan Ann Brawley, Aaron Brawley, Aliyah Brawley, Nolan Lee Jordan, and Cooper James Jordan.
Bobby served as First Sergeant NCS over demolition in Korea circa 1950-1952 with his squad having the company's only .50-caliber machine gun. Upon return from the Korean War, in 1953 he worked in partnership at Mooresville Feed and Seed with his father Robert Lawson Brawley. In 1967 he co-founded Howard and Brawley Furniture Inc., and in 1972 he founded Piedmont Appliance run by Mr. Don Parker. He and his wife Betty founded Brawley Realty in 1976. He obtained a General Building Contractor's license in 1989. In 1990 he opened the Brawley Furniture retail business also known as "The Warehouse Sale" on Broad Street in Mooresville, N.C.
Bobby served in the Mooresville Jaycees and was a charter member of the Mooresville Civitan Club. He served his Christian faith as a deacon at the Mooresville Associated Reformed Presbyterian Church and was a lifelong member. He co-founded Samaritan's International around the year 2000 and for this received the American Red Cross Award on May 9, 2003. His team of doctors and businessmen feed over one million children in three different countries to the present day. In 2006 he served on the Mercy Ship for several weeks that went to different countries.
Bobby Brawley's passion was painting, and he was an accomplished artist.
Bobby enjoyed yearly beach and mountain trips with the family, boating and golfing. He and his wife belonged to a Bridge and Dance Club. He and Betty traveled extensively in the United States, including Hawaii, and to many countries in Europe and the Caribbean, and to China.
Bobby's philosophy in life was to be a giver — not a taker — and to never give up.
A memorial service will be held on Thursday, July 28, 2022, at 4 p.m. in the Chapel of Cavin-Cook Funeral Home with the Rev. H. Cowles Bristol III officiating. The family will receive friends following the service in the Heritage House at Cavin-Cook Funeral Home, Mooresville.
Memorials can be made to Samaritan's International, 107 Sailview Road, Mooresville, NC 28117.
Cavin-Cook Funeral Home, Mooresville, is serving the family.