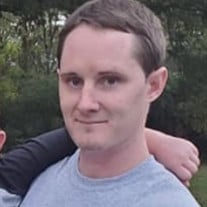 Brandon Shawn Terry, 29, of Clemmons, N.C., passed away on February 22, 2022. He was born on July 9, 1992, in Iredell County, N.C., to Mendee Ball McCrary and Gregory Shawn Terry.
Brandon enjoyed riding motorcycles, fishing, and working on cars. He loved to make people laugh and was a real prankster. Brandon was always 15 minutes late for everything he did, but he was a hard worker and highly respected by his co-workers and customers. He had a big heart and especially loved his family and spending time with them. He was a great dad. His family and friends loved him, and he will be deeply missed by all.
Brandon was preceded in death by a brother, Gregory Lee Terry; and his maternal grandparents.
He is survived by his mother, Mendee Ball McCrary and stepfather, Sam; father, Shawn Terry and stepmother, Dana; fiancée, Alaina Boyles Terry; children, Camron Gregory Terry and Kaydance LeAnn Terry; siblings, Chasitie, Hailey, and Colten Terry and Jordyn Williams; grandparents, Lee and Brenda Terry, and Carol Christy; nieces, Blaisleigh Ann and Marlee Rose; and nephew, Kerraz Nathaniel.
A visitation will be held on Monday, February 28, 2022, from 12 noon to 1:30 p.m. at West Corinth Baptist Church, Mooresville, N.C. A funeral service will follow at 1:30 p.m. with the Rev. Rob Suttles officiating. Burial will be at Rowan Memorial Park, Salisbury, N.C., immediately following the service.
In lieu of flowers, memorial contributions can be made to Cavin-Cook Funeral Home & Crematory, P.O. Box 977, Mooresville, NC 28115, (704) 664-3363, to help with funeral expenses.
Cavin-Cook Funeral Home & Crematory, Mooresville, is serving the Terry family. Condolences may be made to the family at www.cavin-cook.com.