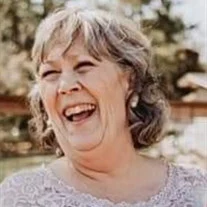 Brenda Puckett Ellis, 74, passed away on November 24, 2022. She was born July 17, 1948.
How do you condense someone like our Mam down into a 3 to 5 minute eulogy? Simple, you can't. She was fierce, like a hurricane at the coast. She was warm, like a sunny day on a mountain top. She would hold you when you cried and laugh with you 'til your ribs hurt. Nobody is or was or will ever be like her.
She loved us all so well and taught us the importance of right and wrong and how to properly clean a kitchen. But most of all, she taught us how to live life to the fullest and never take yourself too seriously. "Life is short, honey" was a key phrase for her. She'd let us play music as loud as we could and bake random desserts at all hours of the night. There were always chocolate Pop Tarts and a pot of coffee in her house — no matter the time of day. She always made everybody feel like a somebody, no matter what, even strangers. She loved a good Walmart trip.
When we were little and scared or worried about anything, she would have us read Psalm 91 from the Bible and tell us how we are always gonna be okay, as long as we trust God and love Jesus. Now, as we all prepare to say "goodbye" to her earthly body and "see you later" to her heavenly one, we know that her faith has gotten her exactly where she should be. She's dancing and singing up in heaven watching us all from above with our Savior and our Papaw.
Our Mam, Brenda Puckett Ellis, was preceded in death by her husband, Michael Ellis; her sister, Jewel White; and her parents, JD and Rhogene Puckett.
She is survived by her three daughters, Michelle, Barbie and Melissa; six grandchildren, Amber, Anthony, Shelby, Kelli, Carrie and Elliot; six great grandchildren, Harper, Charley, Lilly, Teagan, Harper Bane and Ethan; her sister, Millie; and four brothers, Ronnie, Gary, Jackie and Raymond; as well as countless others who knew and loved her. She will be missed greatly and is irreplaceable.
Cavin-Cook Funeral Home and Crematory, Mooresville, is serving the Ellis family. Condolences may be sent to the family at www.cavin-cook.com.