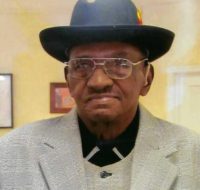 Calvin Andrew Bennett, 93, of Statesville, N.C., passed away peacefully Wednesday, June 29, 2022, at 10 a.m. in his home after battling declining health for many years.
He was preceded in death by his parents, Thirlen Grade and Mary Agnes James Bennett from Alexander County; his daughters, Margaret W. Tomlin and Carla Lynett Bennett; two sons, Tommie Lee and Calvin A. Bennett Jr.; his three brothers, Troy Clarence Allen Bennett, John Wesley Bennett and William Grade Bennett; four sisters, Martha Johnson Bennett, Gracie Bennett, Mary B. Wilson, and Rostta Flowers.
Those left to cherish his memory are his beloved wife of 67 years, Willie Mae Bennett; daughters, Brenda B. Curry, Gloria B. Foster, and Veronica K. Bennett; sons, Joseph Bennett and wife Yvonne Bennett, all of Statesville, N.C.; Michael A. Bennett of Tabor City, N.C., and wife Jessie Bennett; sisters, Florence Wilson, and Elmeta Adams, both of Hiddenite, N.C.; as well as a host of grandchildren, great grandchildren, and great great grandchildren.
Services will be held at Bunch-Johnson Funeral Home on Wednesday, July 6, 2022. A lie in state will be from 9 a.m. to 12 noon. Visitation is from 12 to 1 p.m. with service to follow at 1 p.m. Burial will be at St. Joseph Baptist Church Cemetery.
Bunch-Johnson Funeral Home is serving the family.