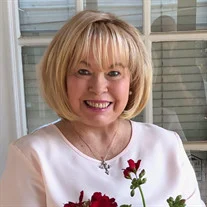 Carolyn Fayard Dagenhart of Troutman, N.C., went home to be with her Lord and Savior on Friday, June 17, 2022. She passed away peacefully at the Gordon Hospice House in Statesville, N.C., surrounded by her loving family.
Carolyn was born in Florence, Ala., and grew up in Gulfport, Miss. She was the daughter of the late Gaston and Josephine Dobson.
She had a strong faith in God, and loved spending time with her four grandchildren whom she cherished greatly. She had a passion for spending time fishing along the North Carolina coast.
Those left to cherish her memory are her three daughters, Tricia Fayard White (Tim) of Statesville, Cheryl Fayard Baker (Michael) of Texas, and Susan Fayard Reid (Russell) of Lexington, N.C.; her four grandchildren, Hailey White Berg (Michael) of Suffolk, Va.; Gavin Reid of Okinawa, Japan, Ella Reid of Lexington, N.C.; and Audrey Baker of Texas. She is further survived by her sister, Betty Fulford (Larry) of Enterprise, Ala.; her companion, Robert Neilson of Troutman, and many nieces and nephews.
Please join us for a gathering of family and friends to be held on Tuesday, June 21, 2022, from 5:50 to 7 p.m. at Nicholson Funeral Home.
For those who wish, memorial contributions may be made to: Gordon Hospice House, 2341 Simonton Road, Statesville, NC 28625; Monticello United Methodist Church, 308 Island Ford Road, Statesville, NC 28677; and The Pulmonary Fibrosis Foundation, 230 East Ohio Street, Suite 500, Chicago, IL 60611.
We wish to express our sincere gratitude to Gordon Hospice House, and the nurses and doctors who loved on our sweet mama. Mama, you will be missed, but never forgotten.
Fond memories and condolences may be left at www.nicholsonfunerals.com.
Nicholson Funeral Home is honored to serve the Dagenhart family.