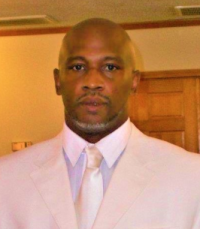 Mr. Charles Alexander Barber, 50, of 295 Cedar Glenn Circle, Cleveland, N.C., was born in Iredell County on November 6, 1971, and was the son of Linda Faye Kennerly Barber and the late Marvin Richard Barber.
He departed this life unexpectedly on Monday, March 28, 2022. He was married to Lynda Gayle Avery Barber, who survives.
Mr. Barber attended West Rowan High School and was a member of Elmwood AME Zion Church. He loved his family and his hobbies included fishing, car Shows, Duke Basketball and the Raiders Football. He was employed by Carolina Beverage Company.
In addition to his wife, Lynda Avery Barber of the home, and his mother, Linda Kennerly Barber of Cleveland, he leaves to cherish the memory of his life two daughters, Te'Zia Nicole Barber and Cherice Alexandria Barber, both of Salisbury; one brother, Erick Lamont (Magen) Barber of Faith; two sisters, Sherry Denise (Ernest) Dunlap and Brenda Elaine Barber, both of Cleveland; a brother-in-law, Claude Theodore Avery II of Salisbury; sisters-in-law, Sharon (James) Davis of Durham, Mona Holt of Bronx, New York, Vera Avery of Cleveland, and Gretchen Dunlap of Cleveland; his grandchildren, Azarah Kennedy Faye Purefor, Kenneth Odell Purefor, III and Jai'den-Kyree OBryant Sturdivant; a special nephew, Bryson Darnell Ellison of Cleveland; three aunts, Mary Jane Wallace, Barbara Ann (David) Brown, Lizzie Barber and Roscoe (Nellie) Kennerly; and a host of nieces, nephews, cousins, other relatives, church family, neighbors and friends.
Celebration of Life Services are incomplete.
Rutledge and Bigham Funeral Home is serving the Barber Family.