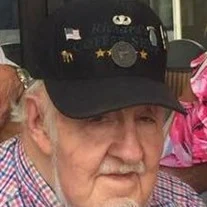 Charles Allen Warren, 85, of Mooresville, N.C., died peacefully of natural causes on July 12, 2022. Warren was born in Mooresville on August 27, 1936, the son of William Allen and Nettie Mae Stack Warren.
He enlisted in the United States Army in his senior year in high school and served tours of duty in Korea, Japan, and Germany. Upon leaving military service, he was employed, among other occupations, as a steel mill worker and a long-distance truck driver.
Charles was always proud of his military service and especially enjoyed joining fellow veterans at Richard's Coffee Shop in downtown Mooresville to share stories and fellowship. He was also a volunteer for the Fuzion Teen Center, a joint youth ministry housed on the campus that was once Cascade Baptist Church, where he had been an active member.
He is survived by a brother, Raymond Lee "Chub" Warren of Powellsville, N.C.; and three children, Ray Warren (Tom Bond) of Key West, Fla., Steven Warren of Asheville, N.C., and Gennell Warren Kessler of Apex, N.C. Also surviving are six grandchildren, Crystal Warren of Clover, S.C.., William Warren of Fort Mill, S.C.., Kellie Kessler of Wendell, N.C., Michael Kessler of Charlotte, N.C., Ashley Warren (Zlatin Gamishev) of Washington, D.C., and Thomas Warren of Leipzig, Germany; and several great grandchildren.
The family will receive friends at Cavin Cook Funeral Home, 484 Plaza Drive, in Mooresville on Saturday, July 30, from 11 a.m. until 12 noon. Those assembled are also invited immediately after visitation to follow in motor procession to the interment of ashes at Glenwood Cemetery in Mooresville. In light of the summer weather, attendees are encouraged to wear comfortable summer-weight clothing.
Cavin-Cook Funeral Home & Crematory, Mooresville, is serving the family. Condolences may be made to the family at www.cavin-cook.com.