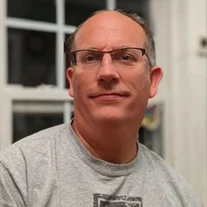 Charles Brian Cooley, 58, of Mooresville, N.C., unexpectedly passed away at his home on Saturday, August 6, 2022.
Brian was born in Winston-Salem, N.C., to Harry and Cozie Cooley. He graduated from Parkland Senior High School in 1982, where he enjoyed running on the cross-country team. In 1983, he received an Automotive Mechanics diploma from Forsyth Tech.
Brian was a man of integrity. He was known as one of the most hard-working men by so many people. He began work around the age of 12 mowing yards, which was the start of him saving the money for the down payment on his and Rachel's first home in Kernersville, N.C. After attending Forsyth Tech, he worked as an automobile mechanic at various car dealerships.
He then got the job he had been hoping to get for many years at Piedmont Airlines (now American), which allowed him the financial stability to propose to Rachel, his girlfriend of four years. She happily said yes. During his 35 years working for the airline, Brian worked in various departments. He was working in the Ground Support Equipment Department, where he was known for his skill in repairing and troubleshooting the Goldhofer. According to some of his co-workers, Brian Cooley was one of the best men they have ever known.
Brian was a loving husband to Rachel Gatewood Cooley for 35 years. He was a fun-loving, involved, dedicated dad who took his children skiing, hiking, camping, bowling, biking, and running. He also enjoyed playing cards, board games, and tennis with them, and was involved in the Boy Scouts when his sons were a part of it. He never failed to make each and every day exciting for his children. Brian was also a caring and helpful son to his parents and mother-in-law, oftentimes dropping what he was doing to help them with whatever they may have needed.
As an industrious, innovative master of many things, Brian could restore or repair cars, build a garage, or dig a basement. You name it, and he could build it or fix it. Brian had a servant's heart. If it needed to be lifted, painted, mowed, moved, built, or repaired, you could count on him to show up with a cheerful attitude. He was an active member of Peninsula Baptist Church in Mooresville. Throughout his years at Peninsula, he was involved with the Currents Sunday school class, Awanas, the preschool department, and worked with recreation at Team Kids. Additionally, he was involved in the Walk-thru-Bethlehem outdoor nativity with his family and building mountain bike trails at several local parks. He also loved dogs, hiking, and most any outdoor activity — in fact, he had gone mountain biking the day he passed.
He lived life to the fullest, enjoying every day, making the most of every opportunity, and always encouraging his family and friends to do the same.
Brian is survived by his parents, Harry and Cozie Cooley of Winston-Salem, N.C.; his wife Rachel of the home; sons Jonathan Cooley of Kitty Hawk, N.C.; and Nathan (Emily) Cooley of Conover, N.C.; his daughters, Hannah Cooley and Sarah Cooley, of the home; his sister, Cherlynn Cooley of Winston-Salem, N.C.; his brother, Geron Cooley of Winston-Salem, N.C.; his mother-in-law, Polly Gatewood; and his brother-in-law, Eric Gatewood.
The family will receive friends on Sunday, August 14, from 2 to 4 p.m. with a service following at 4 p.m. at Peninsula Baptist Church, 687 Brawley School Road, Mooresville. Burial will follow the service at Glenwood Memorial Park, 273 Glenwood Drive, Mooresville.
In lieu of flowers, the family requests those who wish to express sympathy to make memorial contributions to Cavin-Cook Funeral Home, P.O. Box 977, Mooresville, NC 28115 or 704-664-3363 to help with funeral expenses.
Cavin-Cook Funeral Home & Crematory, Mooresville, is serving the Cooley family. Condolences may be made to the family at www.cavin-cook.com.