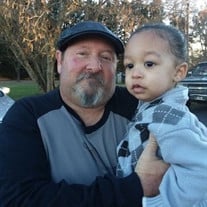 Chris Edward Farrington, 57, of Mooresville, N.C., passed away on January 8, 2022. He was born on December 10, 1964, in Mooresville to the late Larry and Nancy Hawks Farrington.
Chris loved riding his motorcycle, fishing, and firearms, and he enjoyed watching planes and helicopters. Chris loved to cook for his family and spending time with them, especially at the beach. He loved his dogs, Bo and Fezzy.
He is survived by his wife, Ashley Minton Farrington; children; Christopher Patrick Farrington (Fantasy), Jade Farrington, and Adrian Simmons (Melissa); grandchildren, Mathias and Zendaya Farrington; sister, Tracie Farrington; niece, Deja Farrington; and special friend, Rusty Bennett (Teresa).
A memorial service will be held on Friday, January 14, 2022, at 1 p.m. at Fieldstone Presbyterian Church, 804 Fieldstone Road, Mooresville, NC 28115 with the Rev. Inger Manchester officiating.
In lieu of flowers, memorial contributions can be made to Cavin-Cook Funeral Home & Crematory, P.O. Box 977, Mooresville, NC 28115, (704) 664-3363, to assist with funeral expenses.
Cavin-Cook Funeral Home & Crematory, Mooresville, is serving the Farrington family. Condolences may be made to the family at www.cavin-cook.com.