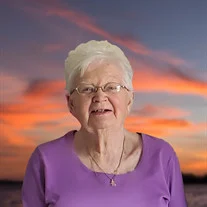 Clara Mae "Twi" Johnson, 97, of Mooresville, N.C., passed away peacefully on June 22, 2022, at Atrium Health Carolinas Medical Center in Charlotte.
Clara was born October 2, 1924, in Rochester, Pa., the daughter of John and Stella Bender, she was a strong, unique, and caring woman who touched the lives of all who knew her.
While living in Rochester, Clara met and married Walter Johnson in 1957. There they raised four wonderful kids. In 1986 Clara and Walter moved to Mooresville. She became a fixture at the Peninsula Baptist Church, where she continued to attend both Sunday School and church. Here she was lovingly referred to as the "Orange Cake Lady." She was devoted to her family, husband, children, grandkids, great-grandkids and even her son-in-law, and loved being a part of their lives. Part of that devotion to family was spoiling her grandkids with ice cream at 8 o'clock in the morning, lovingly telling us parents "oh, its dairy, it'll be just fine!" or endless hours feeding the ducks or fishing off the dock and the countless hours of babysitting. Through graduations, marriages, births, and deaths, she was always a loving fixture in her kids', grandkids' and great-grandkids' lives.
As the fourth of eighth daughters, she would regale her kids and grandkids on her life as a child, watching her father participate in "pigeon races" and how they'd circle around before the quick flight home, baking bread with her mom and then delivering it to neighbors, and walking to the store or movie theater with her sisters. Our mother had a long and interesting life, and we are so blessed she was able to share it with us for so long. This is something we will always cherish.
In addition to her parents, she was preceded in death by her loving husband Walter G. Johnson; her daughter, Judy Gordon; and sons, Arthur and Alan Johnson; her sisters, Ilda Garen, Irene Wolfe, Zeta Hilberg, Eleanor "Ferp" Mavero, Betty "Sis" Parilli, and Dorothy "Dot" Bosco.
She leaves with a lasting legacy of strength, love and faith, to be cherished by her survivors, her daughter, Amy Dyvig and husband, LTC (R) Mark Dyvig of Mooresville; grandkids and their spouses, Jessie and Justin Cook of Mooresville, Cody Dyvig of Mooresville, Jennifer and James Thomas of Whittier, N.C., and Michael Gordon of Badin, N.C.; great-grandkids, Curtis Gordon, Matthew and Landon Thomas, and Oliver and Claire Cook; sister, Janet "Pooch" George of Rochester, Pa., and a host of nieces, nephews and friends.
A celebration of life service will be held by the family at Peninsula Baptist Church on Wednesday, June 29, 2022, with visitation beginning at 10 a.m. and a service beginning at 11:30 a.m. Interment will be at Sylvania Hills Cemetery in Rochester, Pa.
The family would like to extend their sincere appreciation to the nurses, physicians and staff at Lake Norman Regional Medical Center Emergency Room and the Charlotte Medical Center for their dedicated and compassionate care given to our mother while there. Also, to her beloved church family and friends for their unwavering support through the years, your compassion, friendship, and kindness to Clara will always be remembered.
In lieu of flowers, memorial donations may be made to Feed NC at www.feednc.org or to the Mooresville Police Department.
Cavin-Cook Funeral Home and Crematory, Mooresville, is serving the family. Condolences may be sent to the family at www.cavin-cook.com.