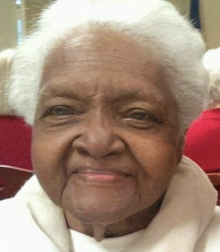 Clara Kimbrough Singletery, 92, first born daughter of the late Thaddeus and Esther Kimbrough, was born December 31, 1928, in Statesville, N.C. She departed this life on Tuesday, December 28, 2021.
Clara attended public school of Iredell County in Statesville, N.C. After graduating high school, Clara continued her education by attending A&T College in Greensboro, N.C., and later transferred and graduated with a bachelor's degree at West Virginia University.
After graduating, Clara's career path led her to Washington, D.C., to work at the Department of Labor under Arthur Goldberg, U.S. Secretary of Labor, and the sixth United States Ambassador to the United Nations.
In 1949, Clara's career aspirations took her to Houston, Texas, where she worked at Texas Southern University as an executive secretary. This is where she would meet and later marry Dr. Moritz Craven. After a year of courtship, Moritz and Clara were married and were soon raising their two daughters, Paula and Laura. Later in life, Clara relocated to Charlotte, N.C., were she met and married David Singletery and gave birth to her youngest daughter, Zeesther T. Singletery, in 1955.
In 1984, Clara retired from Duke Energy and returned home to Statesville to start the next chapter of her life, taking care of her mother and returning to Shiloh AME Zion Church to service on the board as secretary. She was at her happiest when surrounded by her family, watching football and watching a "good ole Western." In 2015, Clara was ever so proud to become oldest living member of the Kimbrough family and the matriarch of her fifth generation family.
In addition to her parents, she was also preceded in death by her two brothers, William Spencer Kimbrough and John Chalmers Kimbrough, and her daughter, Zeesther T. Singletery.
Those left to cherish in her memory include her two daughters, Paula Craven-Edelstein (Ronald) and Laura Craven-Beglar. She has one surviving sister-in-law, Nellie Kimbrough; one niece, Monica Kimbrough; and one nephew, Kevin Kimbrough; eight grandchildren, Marcie Craven-Jackson, Thedius "Eric" Craven (Glenda), Meredith Craven, Stephanie Byers-Parks (Eddie), Melisa Hunter (James), Erinn Singletery, Brittany Singletery, and Mandeesa Singletery; fifteen great-grandchildren; Monte, Devin, Daja, Nevaeh, Eisley, Paisley, Yuri, Malia, James III, Chance, Hope, Rikki, Caleb, Zeno and Maddox; two great-great grandchildren, Aiden and Midas; and a host of cousins, friends and family.
The family wishes to acknowledge with deep appreciation the many expressions of love, concern and kindness shown during this time of bereavement. May God continue to bless and keep you all.
Celebration of Life Services will be conducted Tuesday, January 4, 2021, at Shiloh AME Zion Church in Statesville, N.C. Burial will follow in the Belmont Cemetery.
Visit the Book of Memories for Mrs. Singletery at www.rutledgeandbigham.com.
Rutledge and Bigham Funeral Home is serving the Kimbrough-Singletery Family.