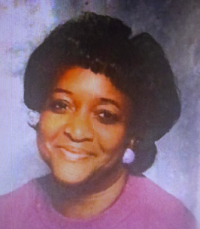 Mrs. Dezeree Pruitt Imes, 80, of 441 North Tradd Street, Statesville, N.C., was born in Rowan County on March 9, 1941, and was the daughter of the late Lonnie and Hattie Mae Fortune Pruitt. She peacefully entered into eternal rest on Monday, January 10, 2022, at the Gordon Hospice House in Statesville.
She was a graduate of RA Clement HIgh School in Rowan County and was employed as a Sewing Machine Operator at Beauty Maid Mills for over 24 years. She later was employed by Zimmer when she retired.
In addition to her parents, she was preceded in death by her daughter, Sheila Imes; a grandchild, DeNerica Imes; a great grandchild, Justin T. Imes Jr.; sisters, Yvonne Lazenby, Pecolia Gray, Jessie Rankin and Lelia Mae Rudisel; and a brothers-in-law, Thomas Imes, Nesbit Rudisel and John Gray.
She leaves to cherish and celebrate the memory of her life two sons, Virgil Louis (Teresa) of Hickory and Pastor Eric (Miniser Reba) Imes of Statesville; two daughters, Jo-Linette McPhatter of Statesville and Albertena (Randolph) Peacock of Olin; one brother, Michael Hargrave of Lexington; three sisters, Rev. L.. D. Imes of Woodleaf, Evangelist Hattie Sue (Theodore) Gray of Charlotte and Overseer Ammie (Hodge) Phifer of Baltimore, Md.; his grandchildren, Justin (Dominique ) Imes of Mooresville, Mark Weeks of Statesville, Amanda Ann Imes of Salisbury, Chasidy Speaks of Charlotte, Sheridan ( Montel) Robinson of Columbia, S.C., Akaia Ervin of Statesville, and Yamanek Ervin of Statesville; and great grands including Preston Weeks, Amir Imes, Sheimel Imes, Angel Headen, Heaven Headen, Kalhul Imes and Kynnedi Speaks; a great great grandchild, Jamius Imes; and a host of nieces, nephews, cousins, other relatives, and dear friends.
Celebration of Life Services will be conducted Saturday, January 15, 2022, at 1 p.m. at Rutledge and Bigham Funeral Home. Reverend Logan McCaskill will officiate and Elder Mark Weeks Jr. will eulogize. Burial will follow in the Belmont Cemetery.
Mrs. Imes will remain at Rutledge and Bigham Funeral Home where members of the family will receive friends until 1 p.m., but will assemble at the residence at other times.
Visit the Book of Memories for Mrs. Imes at www.rutledgeandbigham.com.
Rutledge and Bigham Funeral Home is serving the Imes Family.