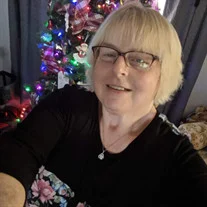 Diane Marie Yocum Snuggs, 62, of Statesville, N.C., died June 21, 2022, in an automobile accident. Born in Somerset, N.J., on August 18, 1959, she was a daughter of the late George Torrence Yocum and Rosemarie Desch Yocum.
Diane was a CNA and a lifelong member of TrueVine Worship Center and an active member of The Church of Brotherly Love Life Group. She loved her family dearly and enjoyed having lots of friends and her porcelain doll collection, along with swimming.
Survivors include her husband, David Nelson Snuggs; a brother, George Yocum Jr.; sisters, Barbara Bunton and Nancy Loftin; and three step children, Shannon Snuggs, Shanna Freeland and Shenelle Freeland. Also surviving are six step grandchildren, one step great grandchild, 13 nieces and nephews; and numerous great nieces and nephews.
Services celebrating Diane's life will be conducted at 2 p.m. on Tuesday, June 28, 2022, at TrueVine Worship Center, 188 S. Shady Rest Road, Statesville, with Rev. Joshua Bunton and Rev. Barbara Bunton officiating. The family will greet friends at the church following the service.
Condolences may be sent online to the family to www.nicholsonfunerals.com. Memorials may be given to the Pregnancy Resource Center, 1710 Davie Ave. B Statesville, NC 28677.
Nicholson Funeral Home is entrusted with the arrangements.