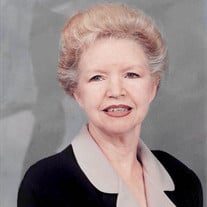 Dorothy Jean Brannon Mills, 88, of Mooresville, N.C., was reunited with the Lord and her loving husband Paul in Heaven on February 11, 2022. She passed away peacefully, surrounded by her children.
The funeral will be held on Tuesday, February 15, 2022. Receiving of family and friends will be from 12:30 to 1:45 p.m. at the Cavin Cook Chapel, with the service following at 2 p.m. Cavin Cook Funeral Home is located at 494 E Plaza Drive, Mooresville, NC 28115.
Born on November 27, 1933, she joins her parents Maude Mae McClure Brannon and Goley Robert Brannon in Heaven, as well as her siblings, Carmel Collins, Garnell Gabriel, Frank Brannon, Alliene Clodfelter, and Max Brannon.
Jean always made sure that everyone she met felt welcomed, received a smile and warm hug, and knew the love of Jesus. Her talent in bringing people together was evident early on. Throughout high school, she was involved in countless clubs and societies, including being named Carousel Queen, NC Girls State, and was voted "Best All Around" by the Mooresville Central High School Class of 1952. Following her graduation, Jean worked as a secretary at Prudential Insurance Company, at St. Gabriel's Catholic Church in Charlotte, and as a Real Estate Broker.
She married the love of her life, Paul, in 1954, and the two of them created a beautiful community wherever they went. After time in Nashville and Charlotte, they returned to Mooresville, built a home, and filled it with children, love … and Christmas decorations. Jean loved every holiday, but Christmas was special. Her family will hold tight to memories of her final "Christmas Around the World," a theme that had even gained local fame and involved each child's room being decorated to reflect the customs of a different country.
It should come as no surprise that the woman who gave Mrs. Claus a run for her money opened House of Flowers in 1973, which eventually became Jean's Hallmark Shop. Together with her partner in business and in life, Paul, they ran the family shop for over 20 years. Whether it was someone searching for a particular Hallmark ornament, a child seeking a Smurf, or a husband in desperate need of a last-minute Valentine, they could count on Jean. She always considered the shop her ministry.
But her most important job was spreading the love of Christ. Jean and Paul were leaders in the congregation of First Baptist Church of Mooresville. Jean served as the Women's Missionary Union Director and as a member of Youth and Leadership Nominating Committees. She also taught Sunday School for kindergartners, college students, and the "Partners in Christ" couples class. But perhaps one of her most recognized roles was that of re-enacting the notable Southern Baptist missionary, Lottie Moon. She considered it a privilege that she and Paul were able to serve on the core team that began The Cove Church in Mooresville. Through it all, she was a fierce prayer warrior.
She took pride in sharing her faith with the next generation, carefully selecting a Bible verse for each grandchild, which they memorized and recited at family gatherings. These verses have served as a source of strength and a reminder of her love, and the love of Christ, to each of them as they have grown and begun families of their own. She prayed for each member of her family by name each night, and she made it a priority to attend every grandchild's football and soccer game, ballet performance, and piano recital she could.
Truly an angel among us, she will be greatly missed by her children, Paula Mills Little (Gray), Leslie Mills Bruner (Jerry), Jennifer Mills Barnes (Eric), and Paul Grey Mills Jr. (Jennifer); her grandchildren, Ben Little (Meg), Andy Little (Courtney), Owen Bruner, Clay Bruner, Scott Bruner, Chase Bruner, Abby Bruner, Zach Barnes (AnnMarie), Tiffany Barnes Massey (Derek), Alexandria Mills, Paul Grey Mills III, and Grant Mills; and her great-grandchildren, Rosalee Little, Eowyn Little, Noah Little, Tucker Massey, and Lennon Grey Turner.
For those who favor a memorial contribution in lieu of flowers, the family requests contributions to Wounded Shepherds Ministry, 6608 Yacht Place, Hickory, NC, 28601, or http://woundedshepherdsministry.org/ Wounded Shepherds is a non-profit ministry to pastors and missionaries in crisis that Jean and Paul encouraged their daughter and son-in-law to begin.
Cavin-Cook Funeral Home & Crematory, Mooresville, is serving the family. Condolences may be made to the family at http://www.cavin-cook.com.