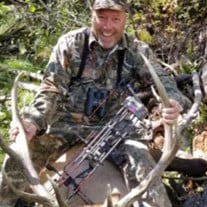 Edward Francis Hendrickson, 59, of Mooresville, N.C., passed away on January 27, 2022. He was born on May 14, 1962, in Queens, N.Y., to Frances Crudo Hendrickson and the late Edward Hendrickson.
Ed really enjoyed the outdoors, especially going hunting. He served with the NYPD and was a first responder during 9-11. Ed retired as a 1st grade detective in 2004. He was an avid member and trustee of the Fraternal Order of Police, Iredell County, Lodge 10. Ed was a fan of good bourbon and Fox news. Let's Go Brandon! He loved spending time with his family and grandchildren. He was deeply loved by all and will be greatly missed.
He is survived by his wife, Wendy Hendrickson; mother, Frances Hendrickson; children, Alyssa Hendrickson (Fiancé Chad Miller), Samantha Delgaudio (Chris), and Eddie Hendrickson; grandchildren, Olivia Brooke Miller and Gianna Grace Delgaudio; sister, Deborah Spidle (Glen); and several nieces and nephews.
A Celebration of Life will be held on Sunday, January 30, 2022, at the Fraternal Order of Police, Lodge 10, 365 Dover Road, Statesville, N.C., at 1:30 p.m.
In lieu of flowers and in honor of Ed's love of law enforcement, memorial contributions can be made in his name to the FOP Iredell County, Lodge 10, 365 Dover Road, Statesville, NC 28677
Cavin-Cook Funeral Home & Crematory, Mooresville, is serving the Hendrickson family. Condolences may be made to the family at www.cavin-cook.com.