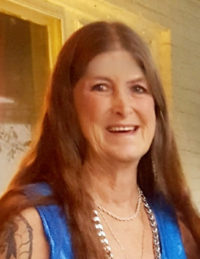 Emma Elaine Honeycutt Tyler, 65, of Statesville, N.C., passed away Saturday, October 29, 2022, at 10:29 a.m. at her home.
Elaine was born October 31, 1956, in Iredell County and was the daughter of the late George Mack Honeycutt and Emma Kyles Honeycutt Staton. She attended South Iredell High School and was a member of Fern Hill Baptist Church. She was employed at Uniglass, Neimans, Thorlo, CR England and then J.C. Penney before she was injured and went on disability.
She is survived by one daughter, Emma-Lee Smith Church; two grandchildren, Khristoffer Dylan Tucker and Gabrielle Martin; three great grandchildren, Grace Beehler, Draya Sifford, and Dania Sifford; two sisters, Linda McGinty and Wanda Hall; and many nieces and nephews.
She was preceded in death by one brother, Lit' George Honeycutt Jr.
Elaine loved her family unconditionally and always enjoyed sharing memories of her family and friends, traveling, gardening, and cooking. She always had a smile on her face, even through the pain.
A celebration of life service will be held at 2 p.m. Sunday, November 6, 2022, at Troutman Funeral Home with her cousin, Rev. Eddie Honeycutt, officiating. The family will visit with friends following the service. Burial will be held at the family plot at Troutman Historical Cemetery.
Memorials may be made to Hospice and Palliative Care of Iredell County or to Troutman Funeral Home to help pay for Elaine's funeral expenses.
Troutman Funeral Home is serving the family.