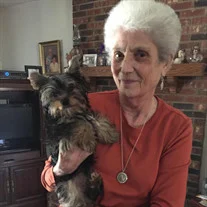 Elizabeth "Ann" Mayberry Benfield passed away peacefully at her home on December 15, 2022. Ann was born in Wilkes, N.C., County on August 14, 1932, to parents Fred Lester and Cansie Mayberry.
Her grandchildren lovingly called her "Grandy." She will be remembered for the bright glimmer in her eyes, her kind smile, and her love of murder mysteries. Her dog Trooper was her most loyal companion, and the Watson to her Holmes.
Ann loved to dance, and she was good at it too; she'd even tell you herself. She was master at checkers and had a 55-year winning streak, never losing a game except for the handful of times she let her grandkids win to save their egos. In warm months of the year, you would often find her sitting on the front porch saying things like, "I think this is a very nice place to live. God has been very, very good to me!"
She smiled the brightest when surrounded by her loved ones. Ann adored her family and was tremendously proud of her children. Quite the hard worker, she made a point to ensure her family was taken care of starting at a very young age. Most recently, before she retired, you'd find her at Walmart, where she was proud to see her picture on the wall when she earned employee of the month.
If you knew Ann, it was hard not to love her. While we will miss her on this side of Heaven, we know she's dancing in Heaven with her daddy, her daughter Jennifer, and her younger brother Clifford. She is also laughing with her mom and older sister, Mildred.
Ann is survived by her son, Joe Benfield; her daughter, Velda Frowine (Sam); her grandchildren, Leslie Estep (Jason), Bo Frowine, Justin Mills (Morgan), Molly Pedemonte (Mike), Andrew Frowine (Megan), and Logan Mills (Elizabeth). She also leaves behind her siblings, Frank Mayberry (Phyllis) and Clate Mayberry (Pat); her sister-in-law, Ann Mayberry, and many nieces, nephews, and great grandchildren.
A celebration of life will be held on Tuesday, December 20, at Nicholson Funeral Home at 135 East Front Street in Statesville, N.C. Visitation begins at 12 noon followed by a service at 1 p.m.
In lieu of flowers, please make donations to Hospice of Iredell County.
Ms. Benfield's service can be viewed LIVE by visiting
https://view.oneroomstreaming.com/index.php?data=MTY3MTQ3MjM0NDIyNTU5MiZvbmVyb29tLWFkbWluJmNvcHlfbGluaw==
Nicholson Funeral Home has the honor of serving the family.