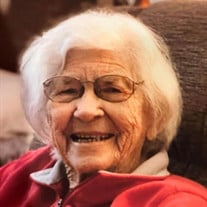 Mrs. Emma Lee Miller Marlow, 92, of Statesville, N.C., passed away on Thursday, February 17, 2022, at the Gordon Hospice House.
Mrs. Marlow was born in Alexander County, N.C., on November 11, 1929, and was the daughter of the late Joseph Miller and Madie Bell Mason Miller. She was a graduate of Central School and on February 27, 1954, she married Howard Marlow. Together they had 37 years of marriage before his passing in 1992.
Mrs. Marlow retired from Holly Farms Co. where she worked as an inspector for 21 years. She was a member of Rocky Hill Baptist Church.
Mrs. Marlow enjoyed the simple things in life. She was a woman that cared for everyone, often times putting others before herself. She enjoyed working in her garden and canning vegetables and willingly shared with neighbors and family alike. She never had a driver's license, so she walked a lot. Along with her sister-in-law and best friend, Dina Mae Marlow, she walked everywhere, solving the world's problems along the way. She loved playing marbles and Chinese checkers with Dina Mae and in her quiet time would work word search puzzles and was exceptionally good at it. All of those times spent with Dina Mae were highlights along her life's journey, but nothing brought her the joy that came from family. She loved all of her children equally, but her grandchildren and great-grandchildren held a special place in her heart. Her presence around the table will be missed deeply.
In addition to her husband and parents, Mrs. Marlow was preceded in death by six brothers and four sisters.
Left to cherish her memory are one son, Donald H. Marlow (Sheila); and three daughters, Marsha M. Goforth (Randy), Brenda M. Sloan, and Margaret M. Duncan (Mickey). She is also survived by six grandchildren, eight great-grandchildren, and two step great-grandchildren.
A graveside funeral service honoring the life of Mrs. Marlow will be conducted at 3 p.m. on Sunday, February 20 in the Rocky Hill Baptist Church Cemetery with Pastor Andrew Sharpe officiating.
Online condolences can be made to the family at www.nicholsonfunerals.com.
Nicholson Funeral Home is honored to serve the family of Mrs. Emma Marlow.