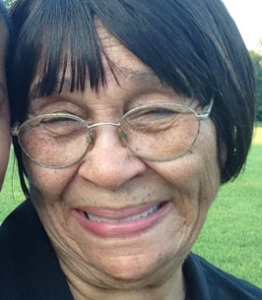 Mrs. Essie Steele, 86, was born in Iredell County, N.C., on December 22, 1935, to the late Lonnie Burton Chambers and Sena Mae Simmons Chambers. She departed this life on Wednesday, November 16, 2022, at Gordon Hospice House in Statesville, N.C.
Mrs. Steele graduated from Unity High School, and prior to her retirement was employed as a winder at Carolina Mills. She was a member of the Greater New Mount Olive Pentecostal Church, Statesville, where she was a Sunday school teacher, a member of the choir, treasurer, and Kitchen Committee member.
She was preceded in death by a son, Ray Anthony; grandson, Wayne Nichols Jr.; three brothers, John Chambers, Joseph Chambers, and Clarence Chambers; three sisters, Annie White, Ella Hall, and Minnie Sharpe; nephews, Clarence Jones, Mark Daye, and Derek Campbell; and a niece, Regina Campbell.
She leaves to cherish the memory her life her husband, Henry Steele of the home; her children, Beverly Nichols of Norfolk, Va., Sylvia (Paul) Davis of Virginia Beach, Va., Wayne Nichols Sr., Samuel Leon Nichols Jr., and Daryl Nichols of Statesville; her bonus children, Lois Dawkins, Sondra Summers, Tony Steeley, and Henry (Delora) Steele; siblings, Sarah G. Daye of Statesville, and Virginia Campbell, Larry Chambers of Jamaica, N.Y.; grandchildren, Stephen Cordes, David Cordes IV, Carressa (Darryl) Henderson, Jarod Davis, Jalya Davis, Teresa (Shadeed) Hart, Mia Nichols, Samuel Nichols, Michael Nichols, Savion Nichols, Destine Nichols, Cholie Amox, Wykaisha Nichols, Cameron Coardes, Analiyah Coardes, Jordan Nichols, Jayden Nichols, Cholie, Nova Nichols, Savia Nichols, Rashad Hart, Jamaal Hart , Isiah Hart, Messiya Hughes, Hosea Nichols, Azairah Miller, Isaiah Nichols, Aaliyah Nichols, Jeremiah Nichols, Malichi Nichols, Ezekial Nichols, and Elijah Nichols; great great grandchildren, Sayne Parks, Blayne Parks, and Colten Parks; and a host of nieces, nephews, other relatives, and friends.
A celebration of Life service will be held on Monday, November 21, 2022, at 1 p.m. at Shiloh AME Zion Church, Statesville. Visitation will be from 12:30 to 1 p.m. at the church and burial will follow in the Belmont Cemetery, Statesville. Pastor Carolyn Morrison will be officiating the service.
Visit the Book of Memories for Mrs. Steele at www.rutledgeandbigham.com.
Rutledge and Bigham Funeral Home is serving the Steele family.