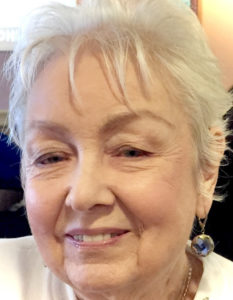 Faye Mills Goforth, 96, loving mother of Kim and wife of Melvin, passed away on Friday, June 17, 2022, in Concord, N.C., in the presence and care of her soulmate and daughter Kim, her loving niece Katrina, and her compassionate caretaker Emmily.
Faye was a force of nature, born on October 20, 1925, in Washington, D.C., to the late Clyde Marvin Mills and Lena Norris Mills. She was a graduate of Washington & Lee High School in Arlington, Va., and received an associate degree from George Washington University. She was extremely proud of her family and her father's work with the Roosevelt administration. While she always considered Arlington and Washington, D.C., her home, she also lived in Atlanta, Birmingham, Cleveland, and Cincinnati as her family moved for her father's work with labor unions and advocacy for workers' rights.
Upon graduating from high school, Faye began working at the Department of Labor under the direction of Frances Perkins, the first woman Secretary of Labor. Many of Faye's progressive ideas and beliefs in civil rights stemmed from her admiration of her father's work, her experiences in Washington, and her studies at George Washington University. These beliefs were a part of her spirit throughout her life, and she would let anybody and everybody know exactly what she thought!
On May 17, 1947, Faye married the love of her life, Melvin Lee Goforth, whom she lost way too soon in 1984. The two met through an uncle from Statesville who showed her his photo. Thinking he was handsome (and with her mother's permission), 15-year-old Faye began to write to him while he served in Italy and Northern Africa in World War II. After the war ended five years later, Melvin traveled to Washington to meet his beautiful 20-year-old pen pal, and the rest is history.
Upon moving to Statesville, Faye struggled with culture shock – a beautiful young woman from the city comes to a small town in the South. In true "Faye" fashion, she marched to her own drummer, wearing "slacks" when many of her contemporaries still wore dresses, installing air conditioning even if others warned it would "give her baby pneumonia," and working outside the home at a time when many mamas stayed home with their babies. As Melvin said, "she will argue with a signpost," but Faye would be Faye and her loving husband supported her wishes.
Faye and Melvin had one child, Kim Goforth Simpson. Kim was an integral part of their lives and traveled with them to many countries through Melvin's association with Eastern Airlines. They enjoyed trips to the Netherlands, Great Britain, Greece, Spain, Italy, Japan and Hong Kong as well as to many beautiful parts of the United States. Faye was fiercely proud of her daughter, and anyone who met Faye would inevitably hear all about Kim, much to her daughter's chagrin at times (sigh!).
After a long career at Selective Service (the "Draft Board") in Statesville, Faye retired at the end of the draft in 1974. From that time, she was active in many civic organizations, including Civitan, ABWA, Elk Auxiliary, NARFE, American Legion, and others. She also worked at the Statesville Auto Auction for over 20 years. Her most cherished work, however, was as a yoga instructor at the Iredell Senior Center. Up until age 93, Faye would not miss her classes on Tuesday and Thursday afternoons, saying, "as long as I'm able, I need to give."
Faye, Melvin, and Kim were members of St. John's Lutheran Church, where Faye served as a Sunday School teacher and was a loyal member of the Women of the Church.
Faye left her imprint on many people in her life but none more than her loving daughter Kim. In Kim's words:
"Mother was a beautiful, quirky, progressive, independent, opinionated, strong-willed (would "argue with a signpost"), intuitive, compassionate, and elegant lady who taught me to stand on my own feet, not fear the unknown, trust my instincts, and live life to the fullest! My soulmate, my cheerleader, my constant support, my mama…may she Rest in Peace".
Faye has two siblings whom she adored, Barbara "Bob" Mills Timberlake Haller and Phillip N. Mills, who are celebrating with her in Heaven. Left on Earth to cherish her memory are Kim Goforth Simpson and husband Richard of Concord; special niece and "sister-cousin" to Kim, Katrina Little Maddrey (Roland) who was by her side and Kim's constant support; her loving nieces and nephews, Steve Goforth, Jeri Lynn Koontz (Steve), Phil Mills (Janis), Tracy Mills Dolan (Gene), Paige Mills McCarter (Keith), Karen Timberlake White, Dale Timberlake (Carol), Ron Pierce (Penny), Geof Little (Sharon), and Nelson Little. She is further survived by her great niece and nephews, Grayson and Joshua Pierce and Curtis Goforth (Jennifer). And we cannot forget her grand-pups, Henry and Grace, whose visits always brought a smile to her face.
Special thanks go out to:
♦ Richard Simpson – For EVERYTHING
♦ Katrina Maddrey – For constant help, love, encouragement, and support!
♦ Donna Adams who was a constant support to Kim throughout Faye's journey,
♦ The Laurels and The Haven at Highland Creek for exceptional care and compassion for Faye,
♦ St. John's Lutheran Church whose members reached out with sweet cards and gifts,
♦ Emmily Flick-O'Hora a wonderful and intuitive caretaker in her final week,
♦ Angie Butler-Crum who instantly became family in Faye's final week,
♦ Hospice of Greater Charlotte Region who supported Faye and Kim in her final passage,
♦ And all who shared in Faye's journey throughout her life…
A Memorial Service will be held on July 16, 2022, at St. John's Lutheran Church in Statesville, Time TBD.
Donations may be made in her memory to the charity of your choice.
Troutman Funeral Home is serving the family.