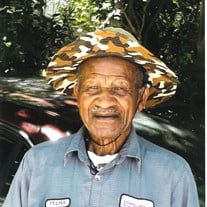 Felma Norman, 91, of Statesville, N.C., passed away on November 20, 2022. He was born in Elberton, Ga., on January 11, 1931, to the late Peter Allen and Lecky Everhart Norman.
Felma worked as city worker in Statesville and was a member of Davidson Baptist Church.
In addition to his parents, he was preceded in death by his wife, Veronica Betty Louise Rhinehart Norman; one son, Keith Norman; one daughter, Wanda Norman; one stepson, Charles Templeton; four brothers, Calvin Norman, Walter Norman, Tom Everhart, and Ray Everhart; one sister Annie Border; and two grandchildren, Shantel Norman and Kenneth Damon Norman.
Those left to cherish his memory include two sons, Felma E. Norman and wife Rhonda of Statesville, and Grayland Norman of Statesville; two stepsons, John Templeton of Statesville and Kevin Gibson of Statesville; one daughter, Teresa Ann Norman of Maryland; one stepdaughter, Eria Templeton of Statesville; one brother, John Everhart of Salisbury; three sisters, Liz Norman, Lucille Pruitt, and Onia Angel; and seven grandchildren, Denis Holland, Angie Holland, Stacey Norman, Jason Norman, Chris Norman, Benji Norman, and Taketa Norman. Felma also had many great-grandchildren and great-great-grandchildren.
A Memorial Service will be conducted Thursday, December 1, 2022, at 12:30 p.m. at Davidson Baptist Church. Rev. James Ferguson will officiate. The Family will receive friends on Thursday, December 1, 2022, from 12 to 12:30 p.m. Burial will follow in the Church cemetery.
Chapman Funeral Home is serving the Norman Family.