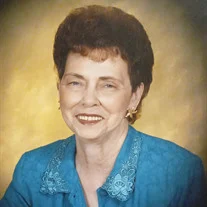 Frances Irene Malcolm was born on April 5, 1940, in Butler, Tenn. On Saturday, August 20, 2022, Irene graduated from this life and was ushered into the presence of her Lord and Savior Jesus Christ.
She was preceded in death by her dad, Arthur H. Tester; her mother, Gladys C. Tester; her sister, Mary Nell Warrington; and her husband, Wendell E. Malcolm.
She is survived by her three children, Stanley W. Deloach Jr., Cathy L. Dayton, and Marcus S. Deloach and wife Tina; her grandchildren, Zachary Deloach, Matthew Deloach, Hannah Deloach, Rane Dayton, Samuel Deloach, and Preston Deloach. She is also survived by nieces, nephews, and cousins.
Early in adulthood, she moved to North Carolina. For many years she worked in the cotton industry. Irene was hard working and was a valuable asset to the industry.
In her twenties, Irene made the most important decision of life when she trusted Jesus Christ as her Savior. She became a faithful member of Rockwell Baptist Church in Mooresville. In 1990, after rededicating her life to Christ, she joined Liberty Baptist Church in Mooresville. She was faithful to the church and served God through its ministry. She was always known to sit on the front pew with her hand raised to the Lord, heart rejoicing in the Lord, and her voice offering praise to the Lord. Irene was a selfless woman who loved her Savior above all else. She loved her church, Liberty, greatly. Her greatest earthly loves were her family; husband Wendell and her three children.
Irene made an impact on all who knew her. You couldn't help but love her. She was a counselor, prayer warrior, friend, sister in Christ, and precious mother. Until Jesus comes again, she shall be greatly missed.
The family will receive friends on Tuesday, August 23, from 6 to 8 p.m. at Liberty Baptist Church in Mooresville. Funeral services will be held at 11 a.m. on Wednesday, August 24, at Liberty Baptist Church with Rev. Eddie Graham and Rev. Marcus Deloach officiating. Burial will follow the service in the church cemetery.
For those who are unable to attend the service, you may go to www.libertybaptistmooresville.com for the livestream.
Memorials may be made to Liberty Baptist Church, 171 Johnson Dairy Road, Mooresville, NC 28115.
Cavin-Cook Funeral Home & Crematory, Mooresville, is serving the family of Mrs. Malcolm. Condolences may be made to the family at www.cavin-cook.com.