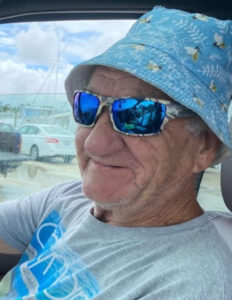 Franklin "Frank" Mebane Beckham, 80, passed away peacefully at his home on September 24, 2022. He was born on August 7, 1942, to Minda and Edward Beckham.
Frank was the middle of five children, Thomas Beckham (Ellen), Roy Beckham (Jessie), Brenda Dodge, and Joyce Hicks (Eddie). He married Nellie Allison; they met at a church event and were married for 61 years. He has two daughters, Tammy Beckham Wyatt (Kenneth) and Deanie Beckham. He had five grandchildren, Anthony Wyatt, Dana Snyder (Daniel Hill), Kristina Pate (Dane), Dianna Nelson (John), and Dustin Billings. He had eight great grandchildren, Aiden Wyatt, Kimberly and Morgan Causey, Ezra Booher, Natalie Snyder, Bryant Causey Jr. (Bubby), Jake Snyder, and Addison Hill (Allison).
Frank was a country boy of the Baptist faith who loved his family. He enjoyed fishing, hunting, the great outdoors, and working on his farm. He retired from PolyOne, and continued to work with his family at Town and Country Storage.
A Celebration of Life is planned for Saturday, October 15, at 3 p.m. on his farm for family, friends, and neighbors.
Troutman Funeral Home is serving the family.