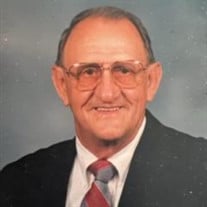 Freddie Harold Pierce, 90, passed away peacefully at Hospice on Monday, January 24, 2022. He was born in Statesville, N.C., on October 5, 1931.
Freddie grew up in Statesville and graduated from Statesville High School, where he set several pitching records while playing baseball. After high school he met the love of his life, Virginia Riddle. He served our country in the Korean War and when he returned, they were married on February 17, 1954.
Freddie was a member of Diamond Hill Baptist Church. He served his church in many ways throughout his time of membership. Church buffet functions could always be guaranteed a pot of his chicken and dumplings. There were certain things that he loved to cook and was usually found making up biscuits and ham at the local Lion's Club functions. Freddie spent time with and enjoyed the company of his two granddaughters. He not only loved them dearly but actively supported them in sports and in anything they took on in life. He modeled true family values for them and was always there to show them the importance of family.
He was preceded in death by his parents, Gurnie and Lillian Pierce; his brothers, Frank Pierce and Dick Pierce; and his sisters, Henny Dagenhart and Virginia Groff.
Left to cherish his memory are his daughters, Monica Greer (Doug) and Freda Baxter (Mark); granddaughters, Paige Baxter and Ruth Baxter; and his brother, Dave Pierce (Jane); as well as many nieces and nephews.
There will be a private graveside service for family and close friends on Friday, January 28, 2022, at 2:30 p.m. at Iredell Memorial Gardens. The family will gather at Freddie's home on Saturday, February 5, between the hours of 10 a.m. and 3 p.m. Anyone who would like to stop by during that time to encourage the family and/or share fond memories is welcomed to do so. Please observe Covid safety protocol when visiting by not attending if you do not feel well and by wearing a mask when you visit.
The family would like to express their appreciation to Rev. Larry Holleman and Rev. Jeff Luxon during this time. We would also like to express our deepest gratitude to Hospice of Iredell County and to a dear family friend, Shirley Wilson. Our gratitude is extended to his Caregivers Teresa, Melinda, Chasity, Angie, Diane, and Dana. You truly made a difference.
In lieu of flowers, please donate to the Gordon Hospice House of Statesville, 2341 Simonton Road, Statesville, NC 28625.
Online condolences may be made at www.nicholsonfunerals.com.
Nicholson Funeral Home has the honor of serving the family.