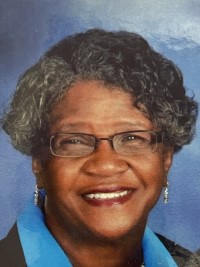 Mrs. Gladys Heaggans Stevenson, 83, was born in Statesville, N.C., on February 13, 1939, and was the daughter of the late Charlie and Emma Rankin Heaggans. She departed this life on Saturday, February 26, 2022, at home after an extended illness.
She was a 1956 graduate of Unity High School and attended Livingstone College and Mitchell Community College. She was formerly employed by Burlington Mills and Carolina Mills. After job core training, she was hired by Iredell County and worked there twenty-seven years until she retired in 2004.
After her retirement, she worked for the Iredell-Statesville Schools system as a substitute teacher and the Iredell County Board of Elections as a poll worker.
Gladys was a member of Highland Acres Church of Christ, formerly Belmont Church of Christ. She was active in the Highland Acres Singers of Faith, Ladies Day programs, adult and children's educational programs, visitation program and kitchen ministry. Her hobbies included spending time with her grandchildren, cooking, singing, and gardening. She loved spoiling her daughters and her adopted daughters and sons.
In addition to her parents, she was preceded in death by her daughter, Pamela Stevenson Ellis; one sister, Oneva Heaggans; and seven brothers, David Heaggans, John Heaggans, James Heaggans, Shirley Heaggans, Preston Heaggans Charlie (Sam) Heaggans, Richard Heaggans and Rufus Heaggans.
Gladys was married to George Robert Stevenson on October 20, 1956, and they were blessed with 65 years together and to this union four daughters were born. She leaves to cherish the memory of her life her husband, George Stevenson of the home; daughters, Betty (Harry) Grinton, Kathy Stevenson Leach, and Shelia Daniel of Durham, N.C., and son-in law James Ellis; one brother, Joseph (Dorothy) Heaggans; two sisters, Alfreda (Robert) Blackwell of Troutman, N.C., and Vernie (John) Smith of Cleveland, N.C.; eight grandchildren, Brittany Stevenson, Darnel Daniel (Nikole), Lloyd Leach, George Daniel(Anastasia), Ashley Stevenson, Nathaniel Grinton, Michael Grinton, and Maya Daniel; nine great-grandchildren; and a host of nephews, nieces, cousins, church family, extended family, relatives and friends.
A special thanks to our loving and devoted caregivers; Callie Leach, Lisa Nesbit, Kim Moten, Demetrice Miller, Tracey Mott, Wanda Bennett, Paris Imes, Vonda Imes, Alicia Bennett, Gayle Gibbs, Francine Freeman, Dorothy Mayfield, Aisha Morrison and Cynthia Carson. We are truly blessed.
Rutledge & Bigham Funeral Home is serving the family.