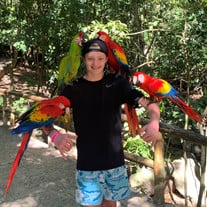 Hans Abel Chapman, 14, passed away on March 20, 2022, at his home in Mooresville, N.C.
Hans was born on April 17, 2007, in Atlanta, Ga., to Emily Ellen (Abel) Chapman and Russell Britt Chapman. Hans was attending Lake Norman High School and participated on the school swim team. He lived life to the fullest in several locations with his family, including Atlanta, Ga.; Provo, Utah; Laie, Hawaii; the Charlotte, N.C., area; and Gilbert, Ariz.
Describing Hans in a paragraph is impossible, but in a sentence — he had a heart as big as the ocean and an untamable sense of adventure to match. He kept a bucket list of adventures he wanted to complete, including sky diving, mountain biking in Whistler, sailing around the world, scuba diving with sharks, snowboarding in the Alps, wrestling alligators, and many more. Hans loved traveling and creating memories and stories. In his short life, he scootered through Rome and Paris, globetrotted around England, Spain, Italy, Mexico, Hawaii, Honduras, Cayman Islands, New York City, and sailed the Florida Keys. He scuba dived with sharks, turtles, and manta rays; snowmobiled and snowboarded in the deep powder of the Rocky Mountains; and hiked the backcountry of Yellowstone National Park. Make no mistake, however, he hated hiking.
His legacy compels us all to dream big and do hard things!
Hans never missed a chance to have fun with family and friends and, to him, all strangers were just friends he hadn't met yet. Self-admittedly, he had a bad case of FOMO ("Fear of Missing Out"). He constantly wanted to invite friends and family over for socializing, especially grandparents and cousins, and was not above scheming grandparents out of money or a trip to the local eateries. His friends could always count on Hans to bring infectious energy and novel adventure to every occasion – even if it was good-natured mischief. Even when he was young, he frequently worked his way into sports games with older kids. He was athletic, and baseball and snowboarding topped the list of favorite sports.
Additionally, Hans was an active member of The Church of Jesus Christ of Latter-day Saints and attended early morning seminary each day before school. He loved our Savior Jesus Christ and dreamed of serving a mission as his cousins and parents had served before him. He followed our Savior's footsteps by serving others. One memorable example was when Hans saw a homeless woman digging in the garbage while on vacation with his family. He desperately wanted to give her some money for food and after doing so, gave her a heartfelt hug. His love for his siblings was also unmistakable. He would keep them up late at night spinning stories with his older brother, trading back scratches with his sister, and playing like a kid with his little brother.
Hans' name has Scandinavian and German origins and means "God is Gracious" or "Gift from God." His life exemplified this meaning in numerous ways. As his family and all who knew and loved him can testify, he was indeed a gift from God, and God was eternally gracious to allow him to be a part of our earthly lives for nearly 15 wonderful years. The memory of his heart and life will continue to inspire those who loved him for many years to come.
Hans is survived by his parents, Britt and Emily Chapman; his siblings Neal, Lilia, and Oaks Chapman; his grandparents Bonnie Britt, Rick (Dawn Wiles) Chapman, and Reese (Judy Pannell) Abel; his aunts and uncles, Adam (Amber) Abel, Kati Chapman, and Drew (Erin) Chapman, Frank Miller, and Mike (Heather) Miller; his cousins, Addison, Andrew, Austin, Aiden, and Aunna Abel, and Scarlett, River, and Brisbane Chapman; along with numerous other beloved family members.
He was preceded in death by his grandmother, Gwen Hardy Abel; his uncle, Cole Chapman; and his step-grandmother, Peggy Rowell Chapman; along with great-grandparents that he knew and loved.
The family will receive friends on Saturday, April 2, from 9 to 9:45 a.m. with a service following at 10 a.m. at The Church of Jesus Christ of Latter-day Saints, 148 Lazy Lane, Mooresville, NC 28117.
In lieu of flowers, please consider donating to a scholarship fund in memory of Hans Abel Chapman at www.everloved.com/life-of/hans-chapman/
Cavin-Cook Funeral Home & Crematory, Mooresville, is serving the Chapman family. Condolences may be made to the family at www.cavin-cook.com.